Within the Learning module, Leapsome allows you to upload your own, interactive e-learning courses by uploading a SCORM, xAPI (or 'tin can'), AICC, or CMI5 file. This will allow your team to enjoy an interactive learning experience, containing videos, quizzes, games, articles, and audio files - all within one course in Leapsome. You can either include e-learning courses from external providers or courses you built yourself using an authoring tool like articulate Rise 360.
How it works
You can add your course as a learning element in Leapsome and integrate it into existing and new learning paths. After uploading your file, learners can access the course right within a player in Leapsome and start interacting with the content.
For better readability, all content can also be viewed in full-screen mode: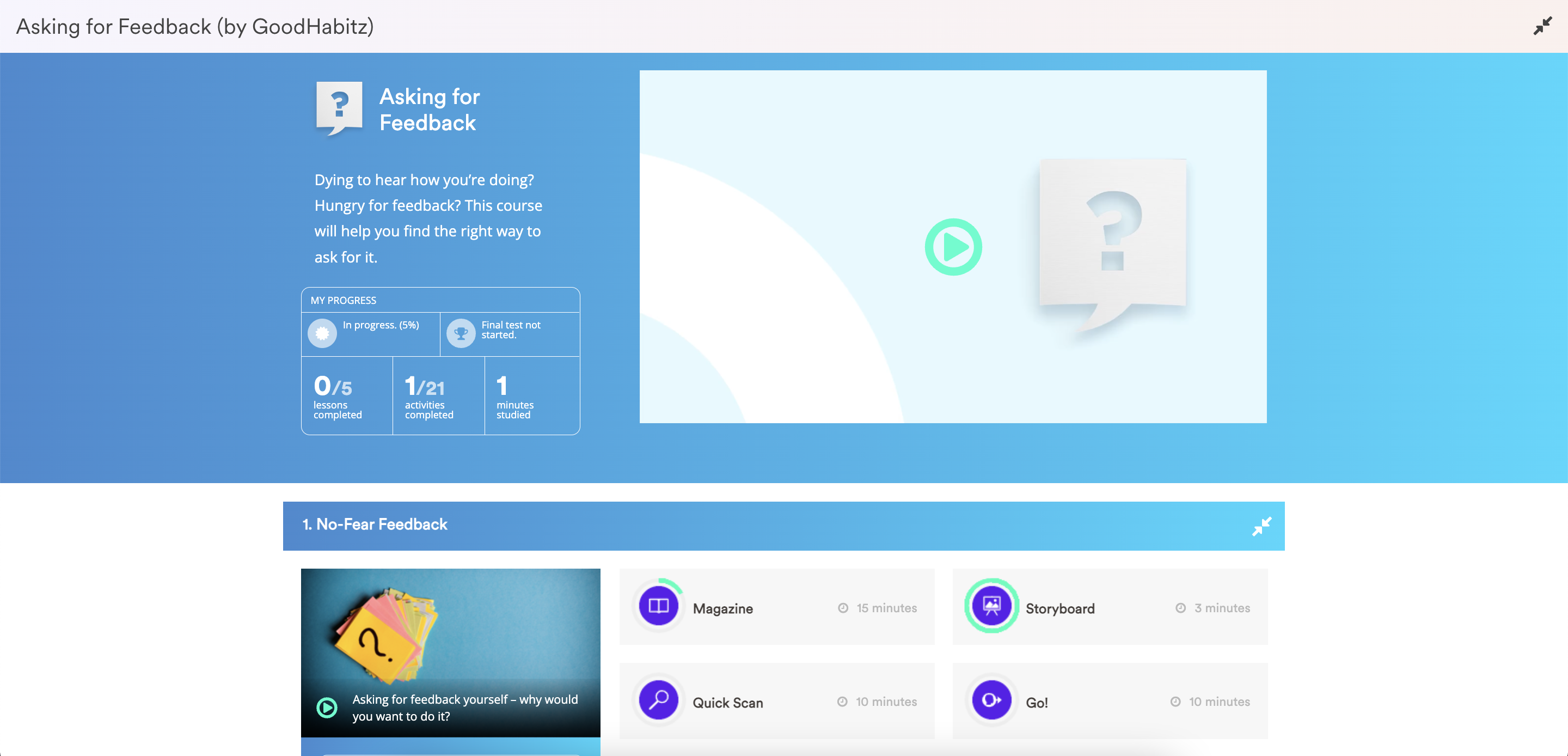 After completing all required steps within the course, Leapsome will mark this course as 'completed' and your learners continue with the next step in their learning path. But no worries: Leapsome saves the progress within your course so that learners can close the course window at any time to take a break and continue later.
If you are integrating your course into a learning path in Leapsome, you as an Admin can check the progress of the participants at any time. You can learn more about that here.
Preparing your course for the upload
To be able to upload your e-learning course to Leapsome, please make sure the file is in SCORM, xAPI ('tin can'), AICC, or CMI5 format.
If you have created the file yourself, please make sure that you have selected a tracking option, such as 'Complete/Incomplete'. Leapsome will be able to process all tracking options, as long as they contain 'Complete' as a status. If you are using articulate Rise 360 to create your courses, you can find these settings within the course export options.
Uploading an existing course to Leapsome
Once your file has been configured, you can upload it as a learning element to Leapsome. This article outlines how this can be done. Once uploaded, you can make this course available to your learners as a learning path.
Frequently asked questions
I completed a course but Leapsome does not show it as completed. Why is that?