To make sure that you have the full picture when assessing yourself, a peer, a direct report, or a manager, Leapsome allows you to check the 'Context and past feedback'. Whilst filling out the assessment, you have the opportunity to gain further insight on:
The description of what is expected on every level of that skill
The past feedback the reviewee has received on the specific skill
The goals of the reviewee are linked to the skill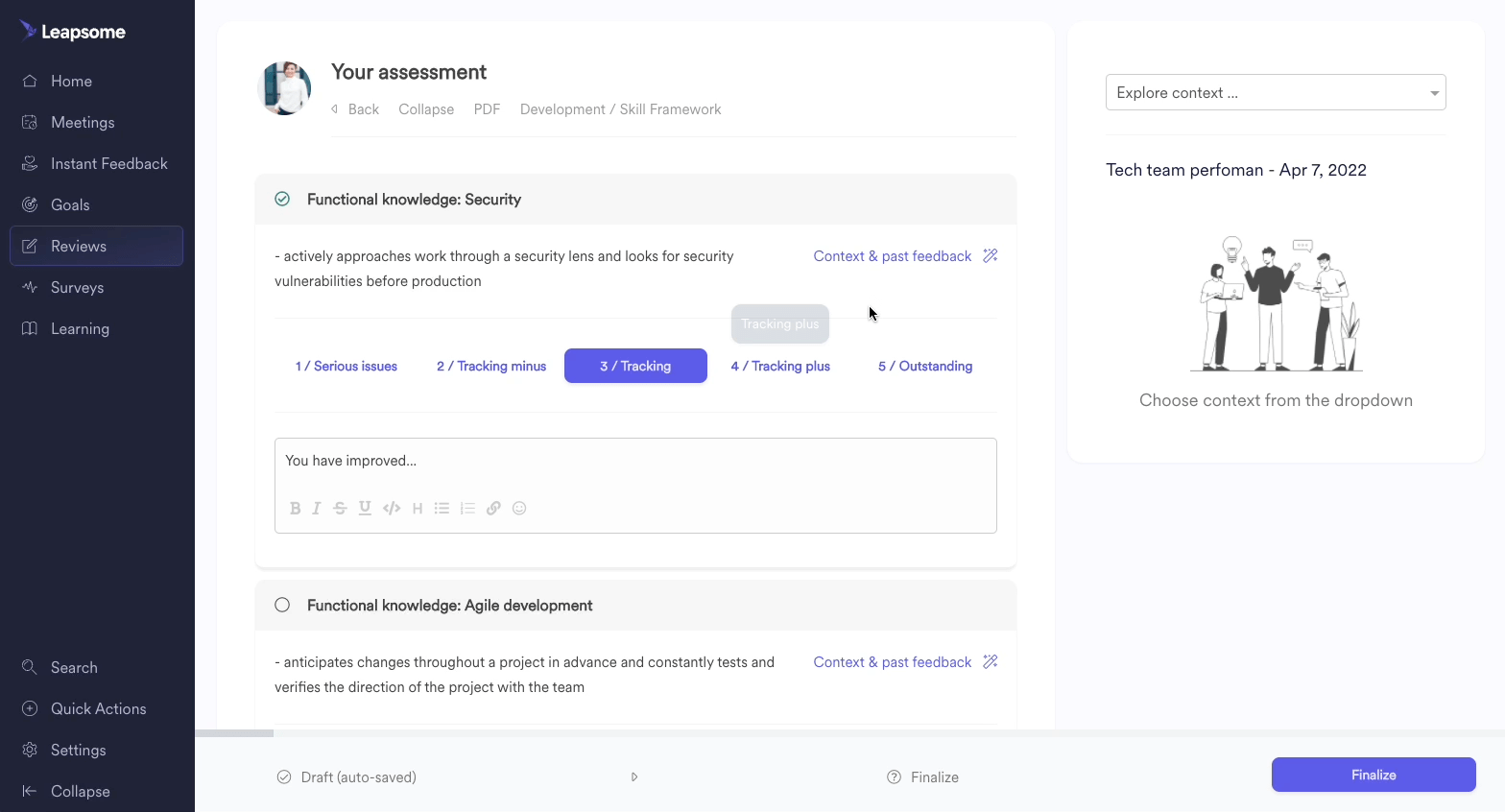 The 'Context and past feedback' button is also visible for all skills on the home tab of a user when looking at the own 'Development' overview.
We recommend doing full 360 performance reviews on a biannual schedule and to give each other instant feedback in between. To ensure that the structured review includes the whole 6-month performance and to prevent a recent performance evaluation bias, the instant feedback should be considered as well by viewing it in the 'Context and past feedback' section.
Frequently Asked Questions
What is shown in the past feedback graph?
Instant feedback and Review ratings based on skills.
Why is the graph showing 0-100?
Multiple scales of Instant Feedback and past Reviews are merged into one.
Who can see the context and past feedback?
The reviewer. The amount of information that is displayed depends on the reviewer and their role. A manager would have access to more information than a peer.
Why do some questions not show in the 'Context and past feedback' section?
Only skills that are in your development skill framework show the context feedback section. Manual questions and goals do not have this button.
Why is there no data displayed when looking into 'Context & past feedback'?
This can have two reasons. First, there may not yet be any data on the specific skill (e.g., if it's a newly introduced skill or the first Review in Leapsome). Second, you may not have the required access rights for that data (e.g., goals linked to the skill may only be visible to managers).
Can I disable the 'Context and past feedback' button?
No.