Leapsome allows you to automatically synchronize your 1:1 and team meetings between Leapsome and Outlook. Changes in Outlook will be reflected in Leapsome and vice versa.
Activating the integration
To set up the integration, you can choose one of these three options:
Create a new meeting and click the 'Sync with Outlook Calendar' button at the top 
Open an existing meeting, go to the meeting settings, and click 'Sync with Outlook Calendar.'
Visit Settings > Profile settings and click 'Sync with Outlook Calendar' there
You will be redirected to a Microsoft login page and have to grant Leapsome access rights to your calendar. Once this is completed, you can use the integration.
Linking to an existing Outlook Calendar event
To link an existing Outlook Calendar event to a new or existing meeting in Leapsome, please follow these steps:
Once the initial setup is complete, you will see a new button called 'Link to existing Outlook Calendar Event.'
Clicking that button will fetch a list of all recurring events that you have created in your Outlook Calendar. You will see a drop-down menu and can type to search for the event title
When you select an event, its participant list will immediately be shown in your Leapsome meeting (as long as the meeting participants have Leapsome accounts with matching email addresses)
Please note: For the meeting to be visible in the drop-down menu, you must be the owner of the meeting in Outlook.
Going forward, all changes to your Outlook Calendar event (e.g. timing, title, meeting link, or participants) will be reflected in Leapsome - a change may take around 10 minutes to show up in Leapsome.
Creating a new Outlook Meeting from Leapsome
You can also create a new Outlook Calendar event when setting up a new meeting in Leapsome. To do so, create a new meeting in Leapsome and enable the checkbox 'Create Outlook Calendar Meeting'.
Adding a meeting link to a Leapsome meeting
If a video meeting functionality is configured with your Outlook calendar event, it will automatically get pulled into Leapsome. You can join the meeting directly from the platform by clicking the "Join Now" button in the top-right corner of the meeting, in the Actions menu. 
This button would take you to the virtual meeting (i.e., Zoom or MS Teams if enabled via add-ins) in the corresponding calendar event. 
Unlinking an Outlook Meeting
To unlink an event, please click the corresponding button in your Leapsome meeting settings.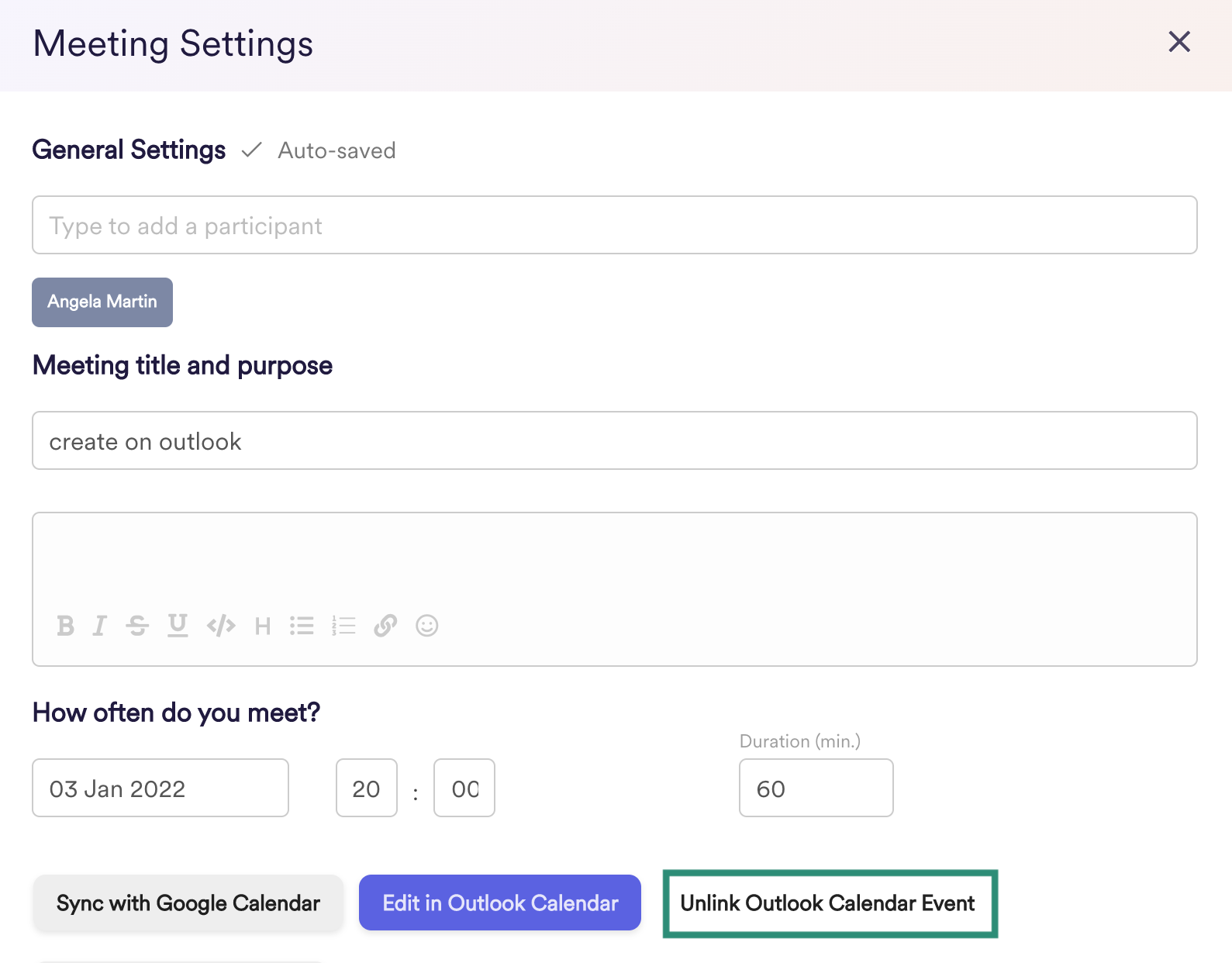 Making changes to an active meeting series
If you would like to change the timing of the next meeting, you can do this directly in Outlook. The timing can not be edited from Leapsome-side anymore. Your edits in Outlook will reflect in Leapsome within approximately 20 minutes. 
Similarly, if you want to add additional participants to the meeting, please add them directly to the meeting in Outlook. If you add further participants to the meeting in Leapsome, this will not add them to the respective meeting in Outlook.
Bear in mind users displayed in gray, have been added via the sync and not from Leapsome directly. This means that if you want to remove them from the meeting, they must be removed from the Outlook meeting instance directly.
FAQ and Troubleshooting
What happens if I delete a single meeting in Outlook?
Your notes and talking points in Leapsome remain safe - we will update the meeting time to the next date in the meeting cadence.
What happens if I remove an entire meeting series in Outlook?
The corresponding meeting in Leapsome will remain in place. If you'd like to delete the Leapsome meeting as well, please follow our instructions for deleting a Leapsome meeting. 
What happens if I deactivate a meeting in Leapsome?
The corresponding Outlook meeting will remain in your calendar. If you wish to remove an Outlook meeting series, please go to Outlook and delete the meeting there. 
I can't find my meeting among the existing meetings.
Only recurring and active meetings will be shown in the list. Please make sure that your meeting is recurring and not canceled. Also, Leapsome will only show meetings in the list, that were created by you. If someone else has created the meeting in Outlook, they also need to create the respective Leapsome meeting.
My Outlook meetings stopped syncing.
This can happen if you (or the meeting creator) change their Outlook password. To reenable the sync, please go to your Settings > Profile settings in Leapsome, click 'Unlink from Outlook' and reenable the sync following the steps above.
A new meeting participant is not showing up in Leapsome.
For meeting participants to show up in Leapsome, they need to have an active Leapsome account with a matching email address.
Can I join a video conference directly from Leapsome?
 If a video conference (e.g., Zoom) is linked to the Outlook meeting, you can join the meeting from Leapsome using 'Actions' > 'Join Meeting'. 
Can I edit the notifications for my meetings?
By default, Leapsome will notify you around 2 hours before the meeting. This gives you and the other participants enough time to read the agenda and add talking points. You will also receive notifications from your Outlook calendar. You can edit these directly within the Outlook meeting.
When trying to integrate their calendar, users see a 'Need admin approval' hint. What can I do?
In this case, your organization configured, that users without an Admin status cannot consent to Leapsome requesting access to their Outlook calendar. This article by Mircrosoft states, how you can adjust this setting to no longer require Admin consent when a user is setting up the integration.  
Can an Admin set up the integration on behalf of other colleagues?
That is not possible, as, during the setup process, each user has to grant Leapsome access to their personal calendar using their personal Microsoft Account. Please note that only the owners of meetings have to set up the integration.
Why am I not receiving the meeting calendar invite to Outlook?
If you did not allow permissions to Leapsome, the notifications and invite requests will not be send. If you are using a VPN, many times Microsoft blocks the integration, so ensure that VPNs are not enabled. If you are utilizing the Azure AD integration, please ensure it is not hosted on-premise, as this feature does not support the outlook calendar invites through Leapsome. 
Why can't I deactivate a meeting that is linked with Outlook calendar?
The button to deactivate a meeting will not be visible if the meeting is linked to a outlook calendar event. To make the button appear to deactivate a meeting, unlink the meeting from the outlook calendar event. 
Which permissions does Leapsome's Outlook integration require?
During the setup, we will ask the user to consent to the following permission requests: