There are several ways to create new Leapsome users. To import your users, please navigate to 'Settings' and click on 'User & Teams.'
Option 1: BambooHR, Personio, Active Directory, and others
If you're using Personio, BambooHR, HiBob, PayFit, Rippling, Workday, Active Directory, Okta, or OneLogin you can use our integrations to automatically import your employee directory (and keep it up to date). To activate the integration, please navigate to admin settings and select the integration in the left menu. Continue by following one of these guides:
Option 2: Import from Excel/CSV
Our Excel import is a great and simple way to import your users and keep your user list up-to-date. It allows you to automatically create teams and manager relationships while importing your users. Furthermore, you can use the CSV / Excel Upload to populate your Custom Attributes
Go to Settings > 'User & Teams' and click 'Actions' > 'Add Users' on the top right. In the window that opens, select 'Import from Excel' and download the template by clicking on the gray button. When populating the template, please follow the provided column format. Please also make sure to format your fields in Excel as 'Text', not date, so that all formats are imported to Leapsome correctly. You have the option to include the user's email (recommended) or to set up a user name for users without an email (read more about our Kiosk mode here) - all other fields are optional. Special Latin characters can be used in User's names and will be searchable within the Leapsome platform. You will find the columns for the custom attributes as the last columns. Finally, use the completed Excel sheet and upload it to the same place. (Settings > 'Users & Teams' > 'Actions' > 'Add Users'). 
You should ideally provide a full list of all users, especially if you want to automatically create manager relationships. A manager relationship will only be created if the manager's email and a user with a matching email address are provided in the same document.
If your user list or Custom Attributes change, follow the steps above to update your user information.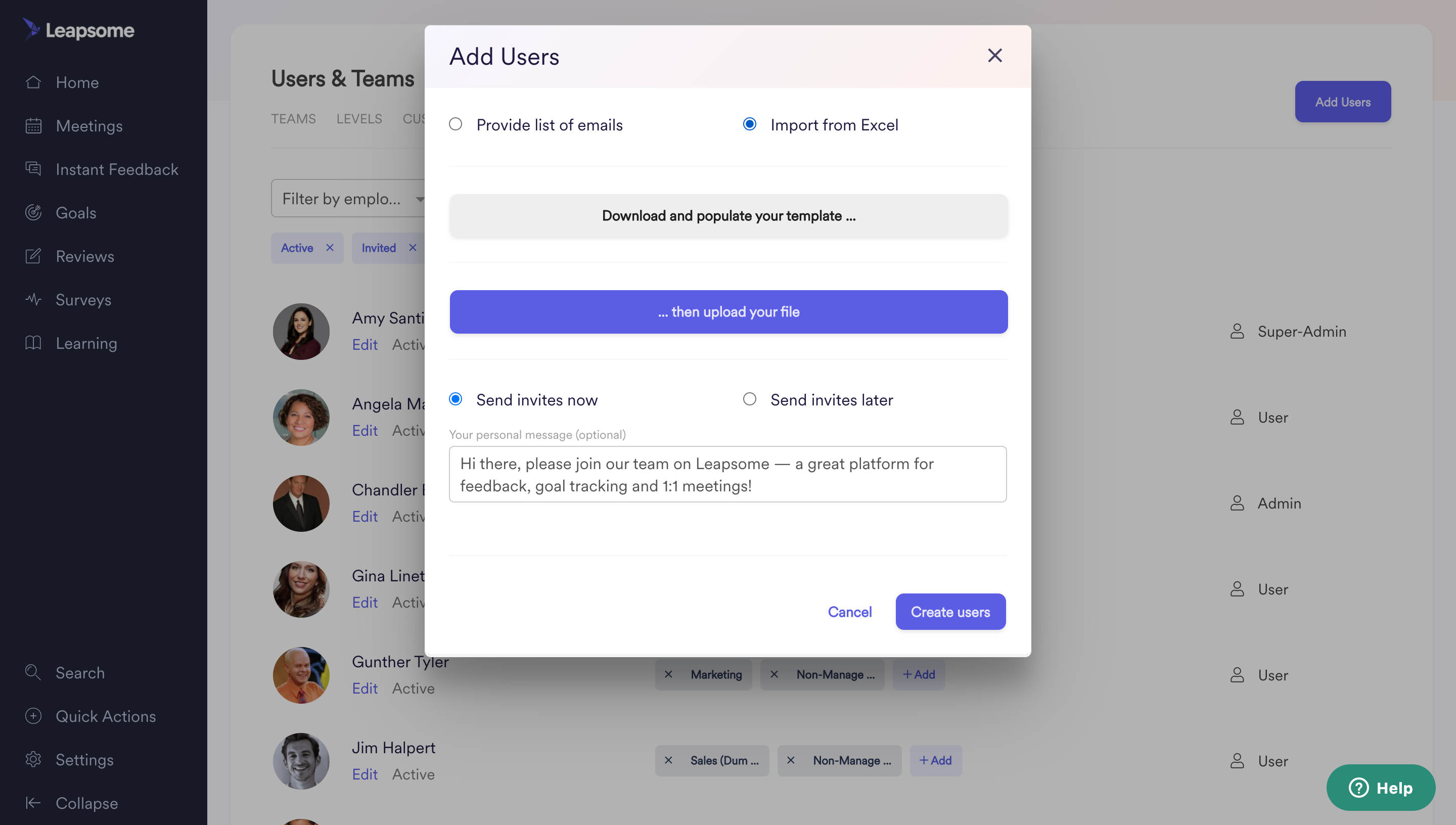 Option 3: Creating users from an email list
To create your user accounts, simply provide a comma-separated list of your users' emails (e.g., 'user1@leapsome.com, user2@leapsome.com, ...'). You can customize an invite message or decide to create users first and send invites later.
Option 4: Gmail & domain white-listing
If your team uses Gmail internally, you can also enable domain-based sign-on (allowing all users from your domain to join your team without any invite). Please get in touch with our support team using this contact form, to set this up.