Leapsome allows you to automatically synchronize your 1:1 and team meetings between Leapsome and Google Calendar. Changes in Google Calendar will be reflected in Leapsome and vice versa.
Initial setup 
To set up the integration, you can either
create a new meeting and click the 'Sync with Google Calendar' button at the top or 
open an existing meeting, go to the meeting settings and click 'Sync with Google Calendar'
You will be redirected to Google and have to grant Leapsome access rights to your calendar.
Linking to an existing Google Calendar event
To link an existing Google Calendar event to a new or existing meeting in Leapsome, please follow these steps:
Once the initial setup is complete, you will see a new button entitled 'Link to existing Google Calendar Event.'
Clicking that button will fetch a list of all your recurring events in Google Calendar. You will see a drop-down and can type to search for the event title
When you select an event, its participant list will immediately be shown in your Leapsome meeting (as long as the meeting participants have Leapsome accounts with matching email addresses).
All changes to your Google Calendar event (e.g., timing, title, meeting link, or participants) will be reflected in Leapsome - a change may take around 5 minutes to show up in Leapsome.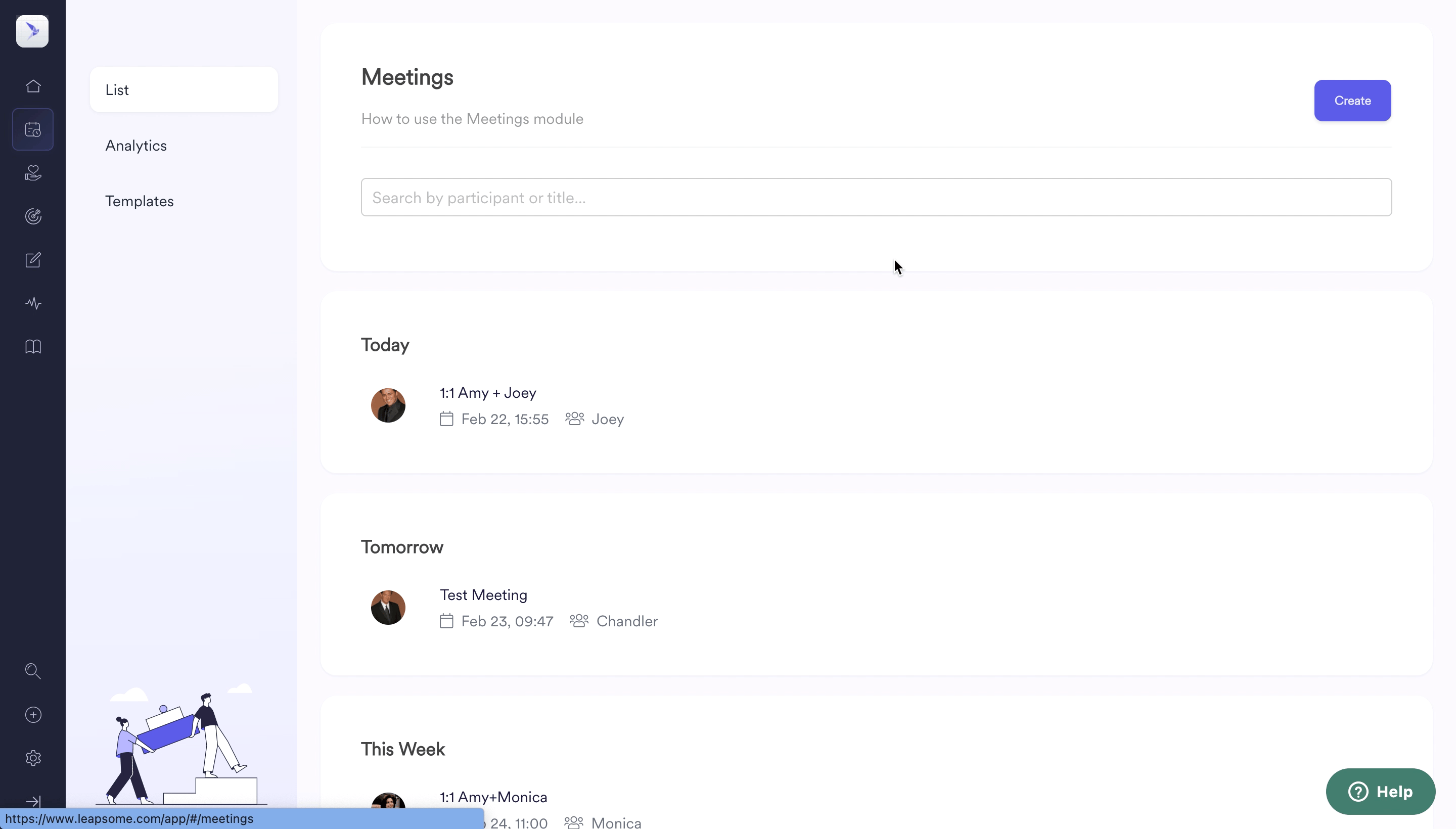 Creating a new Google Calendar event from Leapsome
You can also create a new Google Calendar event when setting up a new meeting in Leapsome. To do so, create a new meeting in Leapsome and enable the checkbox 'Create a new Google Calendar Event.'
Adding a Zoom link into a Leapsome meeting
Suppose your Google Calendar Event has a Zoom Link attached. In that case, it will automatically get pulled into Leapsome, where you can join the meeting directly from the platform by clicking the "Join Now" button in the top-right corner of the meeting: 
This button would always show the zoom link shown in the corresponding calendar meeting. 
Unlinking a Google Calendar event
To unlink an event, please click the corresponding link in your Leapsome meeting settings.
FAQ and Troubleshooting
What happens if I delete a single meeting in Google Calendar? Your notes and talking points in Leapsome remain safe - we will update the meeting time to the next date in the meeting cadence.
What happens if I remove an entire meeting series in Google Calendar? The corresponding meeting in Leapsome will remain in place. If you'd like to delete the Leapsome meeting, please follow our instructions for deleting a Leapsome meeting. 
What happens if I deactivate or delete a meeting in Leapsome? The corresponding Google Calendar event will remain in your calendar. If you wish to delete the Google Calendar event as well, please go to Google Calendar and delete the event there. 
I can't find my meeting among the existing meetings: Only recurring and active meetings will be shown in the list. Please make sure that your meeting is recurring and not canceled.
My Google Calendar meetings stopped syncing: This can happen if you (or the meeting creator) change their Google password. To reenable the sync, please go to your Profile settings, click 'Unlink from Google Calendar' and reenable the sync following the steps above.
A new meeting participant is not showing up in Leapsome: For meeting participants to show up in Leapsome, they need to have an active Leapsome account with a matching email address.