Use review automations to automate the creation of review cycles with time-based rules. Sample use cases include
Probation period assessments: A review of a new employee automatically created a predefined number of weeks after they join the company. These reviews evaluate the onboarding progress for the employee and manage performance expectations going forward. All relevant assessment questions are sent to anyone assessing the employee.
Decentralized annual assessments: Instead of assessing all employees simultaneously, you can review each person asynchronously on a customizable cadence based on their start date (e.g., someone starts and goes through a review every six months after that). That way, performance assessments are spread out over the year, creating a more even workload distribution for managers.
Centralized annual assessments: To automate centralized review cycles for all employees at the same time (e.g., an end of the year review, each year in December), you can set an automation that is repeating every x weeks based on a predefined start date.
How to set up a new automation
To create a new automation, you will first need to have/create a review template. After you have the template, please navigate to 'Automations,' and once there, click 'Actions' > 'Create automation.'
Name
You will first be asked to provide a name for your rule (e.g., 'Probation period assessment' or 'Biannual company-wide review').
Timing
Following that, you should select when your automation should be run:
You can run the automation once for each employee, a certain number of weeks after he / she joined the company. This is the scenario of probation period assessments.
You can also create repeating automations. Each employee will be included for the first time a certain number of weeks after he / she joined, and then again (and again) after your repetition interval has passed. In the example below, an employee who joined on January 1st is reviewed for the first time on February 1st and every 12 weeks after.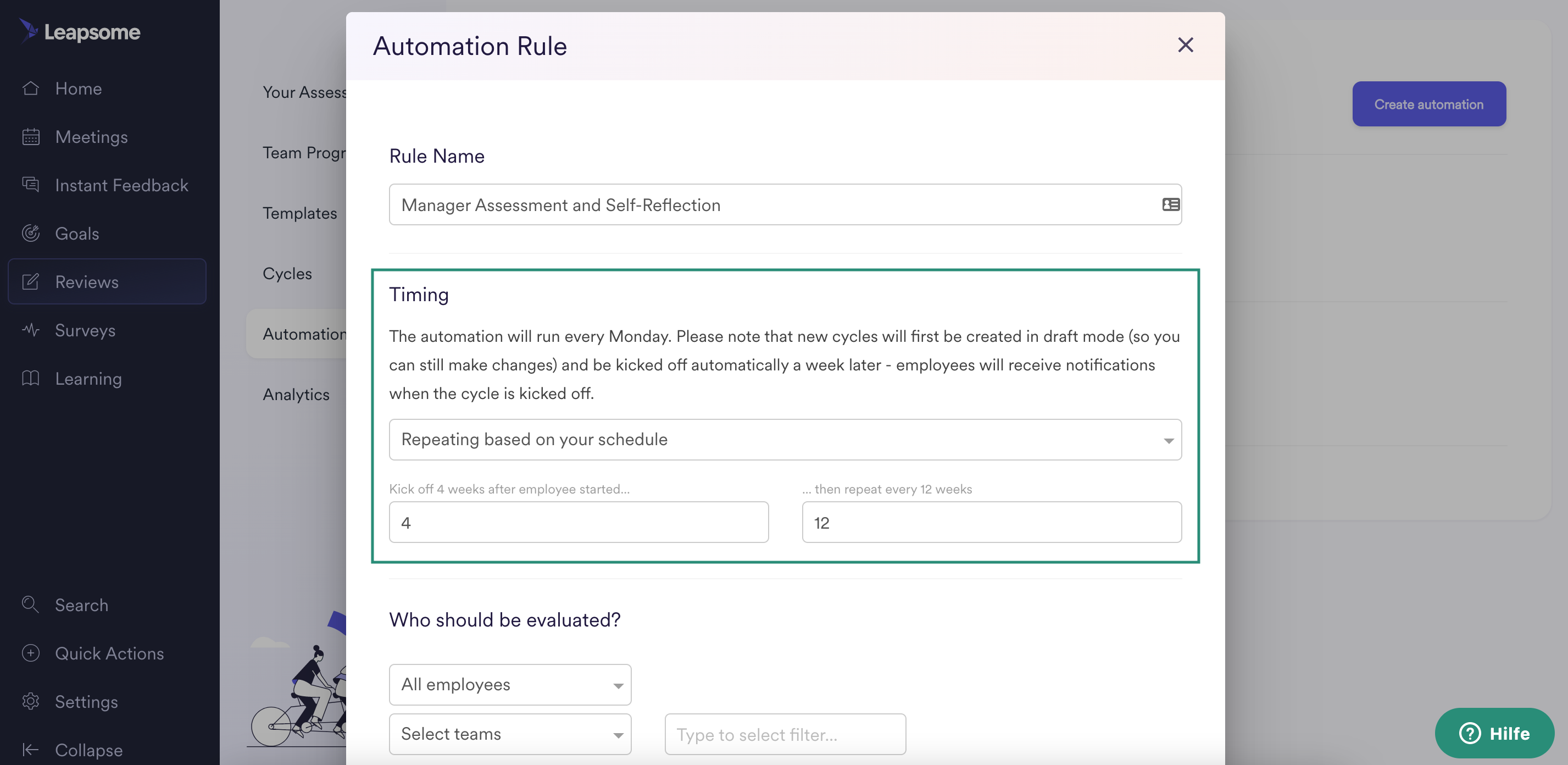 If you want to run repeating reviews for the whole team or company (e.g., each year in December), you can set up an automation based on a predefined day that will repeat every x weeks. In the example below, all selected employees or teams will be included for the first time on December 31st and will then go through the same review again every 52 weeks (1 year).
Note: Changes you make to the template in the meantime will only impact automated reviews that are yet to be kicked off.
Who should be evaluated
In the next step, select for which employees this rule should be applied. You can create automations either for everyone, or based on teams, locations, and custom attributes. You can also exclude certain employees based on these criteria.
Template
Finally, select the template that you want to use for your automation. Each time a new cycle is created based on your automation, we will use the current version of that template, so you can make changes in between.
Important notes on timing
The system will check for eligible employees every Monday morning (CEST). All employees that matched the criteria in the previous week will be included in a new cycle. When a rule is first applied, anyone who fit the criteria (based on the start/hire date) at any point in the last 30 days will be included.
Whenever an automation creates a new cycle, it will be "ready for kickoff." The actual kickoff will be triggered 7 days later, so you'll have plenty of time to make changes to your cycle if required. Of course, you can also (manually) kick it off right away by clicking the 'Proceed' button in the cycle dashboard.
Admins can preview who will be included in their review automation

during the next 6 weeks. The preview tracks whether it's time to enroll a user based on their next assessment based on their last enrolment. If the last automation-based cycle is canceled for a user, it will be skipped and the user will be enrolled in the next automation cadence.
Filtering for automated cycles
To view review cycles that were created with an automation, admins can navigate to 'Reviews' > 'Cycles' and select 'All active automation-based cycles' from the drop-down filter menu. If an automation is deleted, the review cycles that have already been created are not deleted. These must be deleted manually in the 'Cycles' section.
To find automatically created cycles from a specific automation as a super admin, please go to 'Reviews' > 'Cycles > select 'Created by a specific automation' from the drop-down filter. You can then select the automation and will see all cycles that were automatically created by a specific automation.
Setting start / hire dates for employees
If you're using our HRIS integrations, the hire dates will automatically be imported from those systems. If you're using our excel import, please make sure to add the hire date in the appropriate column. You can also edit the start/hire date manually. Go to the settings wheel in the top right corner > 'Users & Teams' > search for the employee you want to edit the start date of > click 'Edit' under their name > update the 'Start date' field.
Removing employees from an automation
If a specific employee or team shouldn't be included in an automation-based cycle, you can exclude them by entering their name or team name into the optional field 'Exclude the following employees'.
Please note: If you notice that a user is missing in the automated review cycle, please check if one of the following causes apply:
the start date of the user has not been defined
the start date of the user has been changed
the automation rules have been changed
the automation inclusion rules have been changed
the user has the status active in Leapsome
Making changes to an active automation rule
When changes are made to one-off automation, the new rule is re-evaluated as soon as the change is saved on Leapsome. The users that were previously included in the rule will not be included again by the automation.
Similarly, when changes are made to recurring automation, the new rule is re-evaluated as soon as the change is saved on Leapsome. Anyone that matches the conditions in a given time window will be included (Note: participants will be added based on the new rule even if they were included shortly before based on a different rule set).