If you want to deactivate a user in your Leapsome account, e.g., because they have left the company or is on parental leave, you can do so in the 'Users & Teams' list.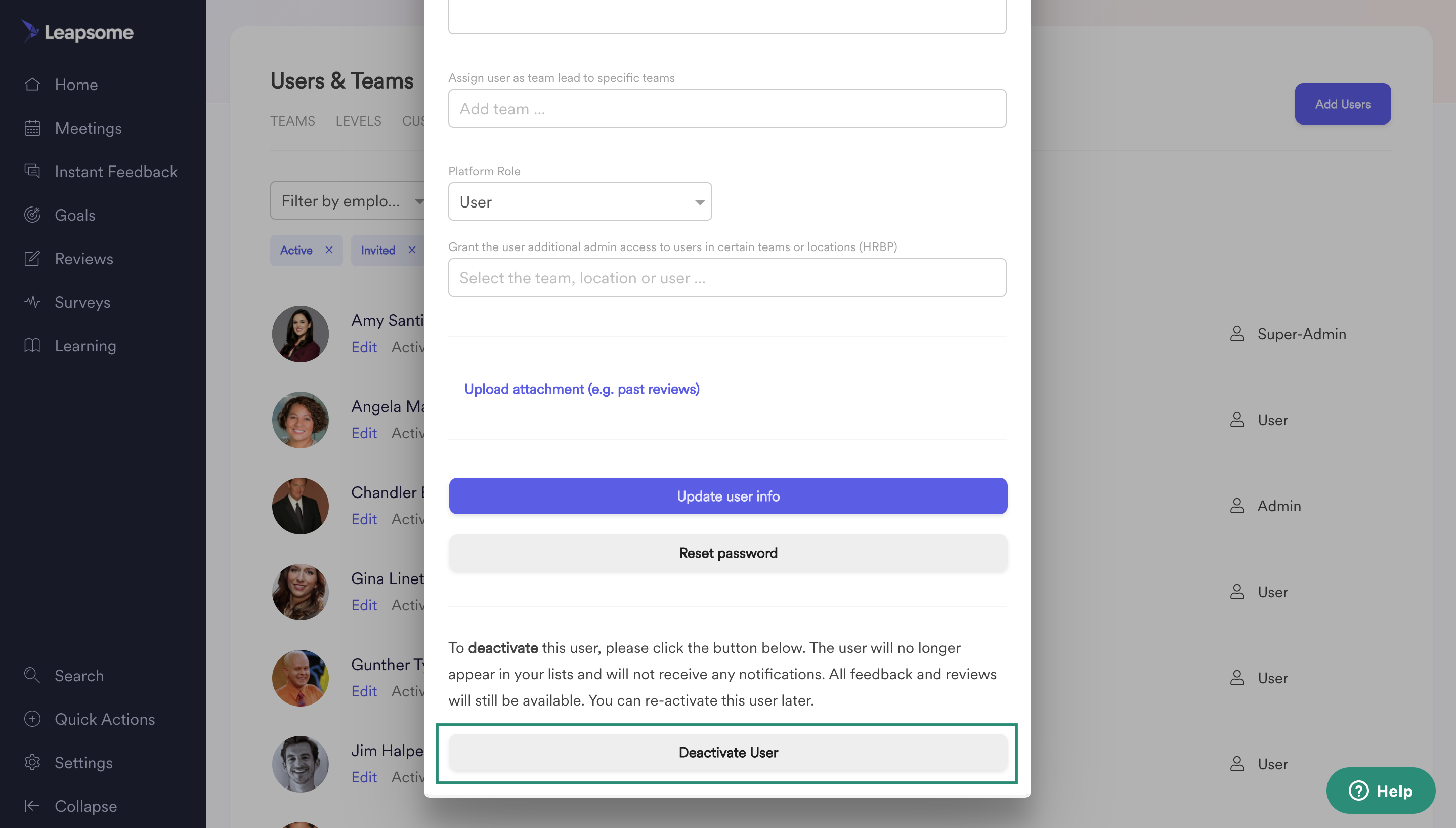 If you use one of our integrations with an HRIS integration (a human resource information system), all users deleted from the HRIS will automatically be deactivated in Leapsome. You can see a list of all deactivated users by filtering for 'Status' > 'Deactivated' in the 'Users & Teams' list.
When deactivating a user, this user will no longer receive any notifications. All past feedback and reviews will still be available.


If you want to reactivate a user, simply filter for the deactivated users, click 'Edit' next to their name and choose 'Reactivate user' in the pop-up. The users will not receive a notification when reactivating the account.

If you use an HRIS integration with Leapsome, the user's new start and end dates (along with other field information) will be automatically pulled from the system. You might have to wait until the synchronization for these reactivated profiles to update on Leapsome. You can also manually go to your 'HRIS integrations' section on Leapsome and click on the 'Update and Synchronize' button.

If there is no field data in the HRIS system, after syncing, Leapsome will continue to either hold any old data for that field or leave the field empty. Similarly, if there has been any update to any of the HRIS field data, after synchronization, the new input data will automatically override old data in the Leapsome platform, replacing it with the new input.

If this deactivated user was added onto the Leapsome platform manually or through import from a spreadsheet, you will have to find their deactivated user profile, reactivate their profile and manually update their new start and end date.

Important notes during reactivation:

If you create a new employee profile via an HRIS for a returning employee (i.e. an intern transferring to a full-time role) with the same email used for their original account, you may need to delete their old profile to avoid duplicating the user.

If you delete any employee data from their profile on your HRIS, it may not be reflected on their Leapsome profile. The Leapsome platform will instead retain the last data input for these fields. This situation does not apply to edits you make to any field values, they will be updated with the respective synchronizations.

If you want to permanently delete a user, click on 'Deactivated' in 'Users & Teams', then on 'Edit' underneath the user you want to delete, and then 'Delete User'. Please note that this cannot be undone! All past feedback and reviews will get anonymized.
User data after deactivation:
The data of deactivated users will remain in the system; however, it will be anonymized.
Within non-anonymous surveys, the data point of the user will remain in the analytics but will be anonymized. Similarly, in reviews, all assessments in which the user was a participant will be hidden. For all assessments in which the user was participating as a manager, peer, or direct report, their feedback will be visible as 'Deactivated user' (Peer/Manager/Direct Report) to ensure the assessments of users that remain active don't lose context. Once the user is reactivated, all data will be visible again and, where applicable, show the user's name.