Please see our video guide for filling out a self-assessment here.
If you are interested in how best to prepare for your self-assessment, please read this article.
Finding your self-assessment
If you were asked to write a self-evaluation in your cycle, you will be notified via email, Slack, or Microsoft teams. You will also see a corresponding to-do item on your Leapsome home screen in the 'Important' list or under 'Reviews' > 'Your Assessment' > 'Open tasks'. Typically, the self-assessment is created for you by an admin of your Leapsome account or by your manager.
Writing answers
Clicking on the 'Open tasks' item, you will arrive at a screen that looks like the screenshot below where you will fill in your assessment. You will first see a collapsed view of every question. You can click to expand and answer each one. Some questions are linked to a scale while others may only require a comment.
While writing your answers, you can access your goals and previous feedback via the context panel.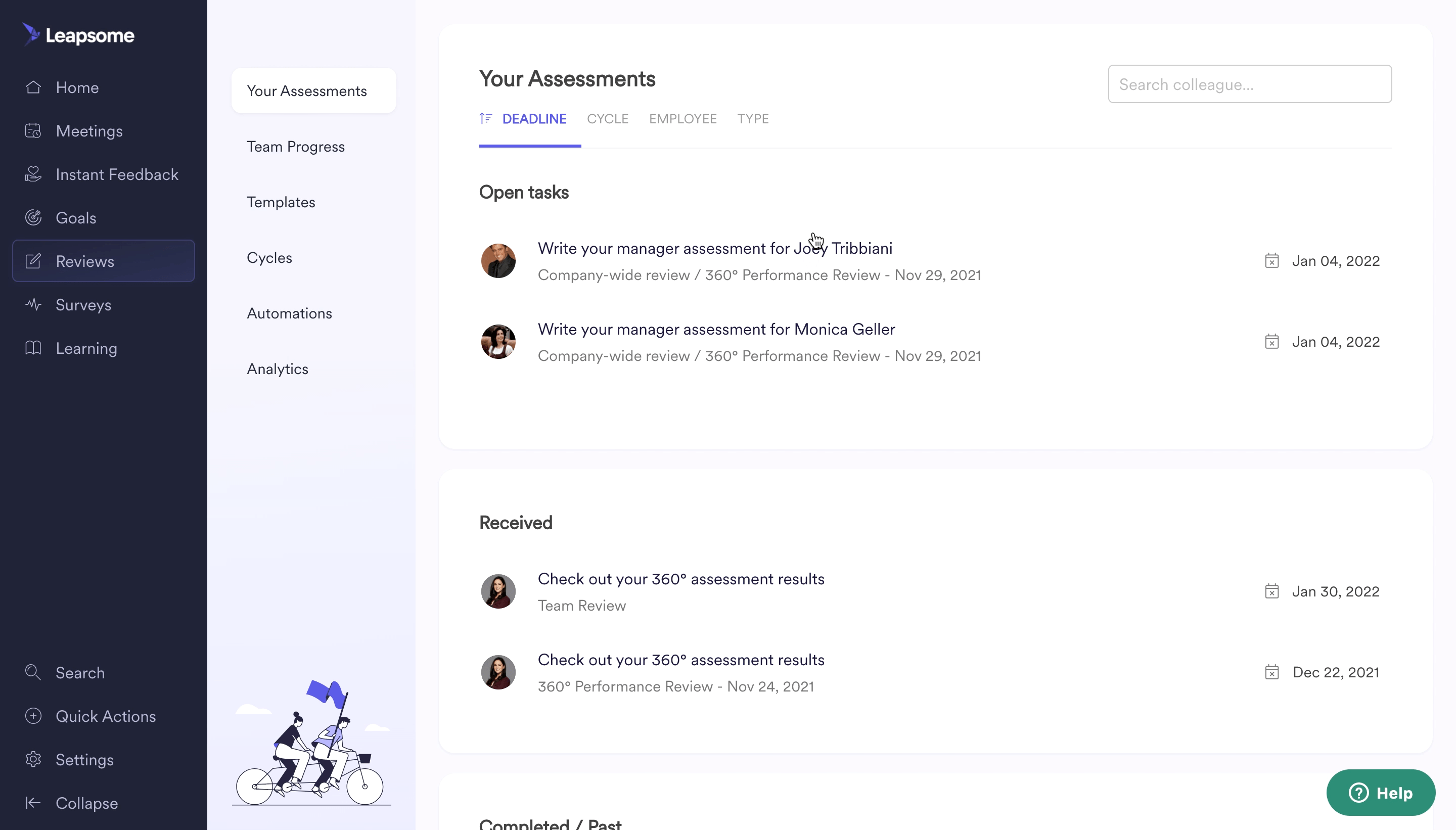 Your progress is saved automatically. You can leave your self-assessment as a draft and go back and complete it at a later stage. At this stage, nobody else can see your answers.
Submitting your self-assessment
Once you have answered all mandatory questions, you can submit your self-assessment by clicking the purple 'Finalize' button on the bottom right-hand side of your screen. Doing this will mark it as complete for administrators. Before submitting, check who will see your answers by hovering over the question mark next to the word 'Finalize' at the middle of the bar at the bottom of your screen.
Discussing the results and editing your answers
If your manager is involved in the assessment process, you will later receive access to their answers. In your 'Open tasks' ('Reviews' > 'Your assessments') list, you will see a new item: 'Discuss and sign your results.' You will also receive an email notification. By clicking on the link in the email or on the item in your 'Open tasks' list, you will be taken to a summary screen where you will see your comments and scores alongside those of your manager and anyone else that reviewed you in the assessment (unless they were made anonymous by the cycle admin).
Sometimes the development talk brings up topics that need to be clarified or changed, so up until the digital signature, you will still be able to edit your answers. To do so, click the 'Edit' button at the bottom right-hand side of your screen.
Please note: Cycles will be closed automatically 2 months after the development talk deadline.
Signing the results
You can now find your full results under 'Reviews' > 'Your Assessments' > 'Received. Once you have discussed the results with your manager, both of you will summarize your discussion in the corresponding text boxes at the top of the assessment. After filling in any relevant notes and finishing your discussion, you can click 'Accept Assessment'. Doing this will lock the results.
Accessing the results at a later stage
You can export all answers as a PDF file by clicking 'PDF' at the top of your assessment. Your results will also be accessible in the 'Your Assessments' > 'Received' section in the 'Reviews' tab.
Viewing answers of other contributors
Depending on the settings chosen by your admins, you might see answers from peers or your direct reports next to your and your manager's answers. If peers were included anonymously, you may see the anonymous scores and comments from each peer, or you may only be able to see the aggregated score of all peers at the bottom of your assessment in the radar chart.