Editing or removing participants
You kicked off a cycle and realize that you still want to make changes to an existing participant? Need to edit some peers, change a manager of a participant or remove someone from a cycle? Fear not.
As the owner of the cycle, you can simply go to the admin overview of your cycle, click the little pencil icon next to a participant's name and change the settings for that participant. You can
add or remove peers
add or remove direct reports
change the manager
or remove the participant altogether
Please note that for each participant, all contributors need to be unique (e.g. a person cannot be manager and peer at the same time). You will also not be able to remove contributors which already started their assessment.
Removing signatures and make assessments editable
During the development talks, the reviewee and the manager both need to sign the results. As soon as one of them has signed the result, neither will be able to make any changes.
Sometimes "signing" happens accidentally. To make the results of an assessment editable again, you can click the "lock" button next to the name. The assessment will then re-appear as an open "To Do" for the participant, the manager and/or the peers.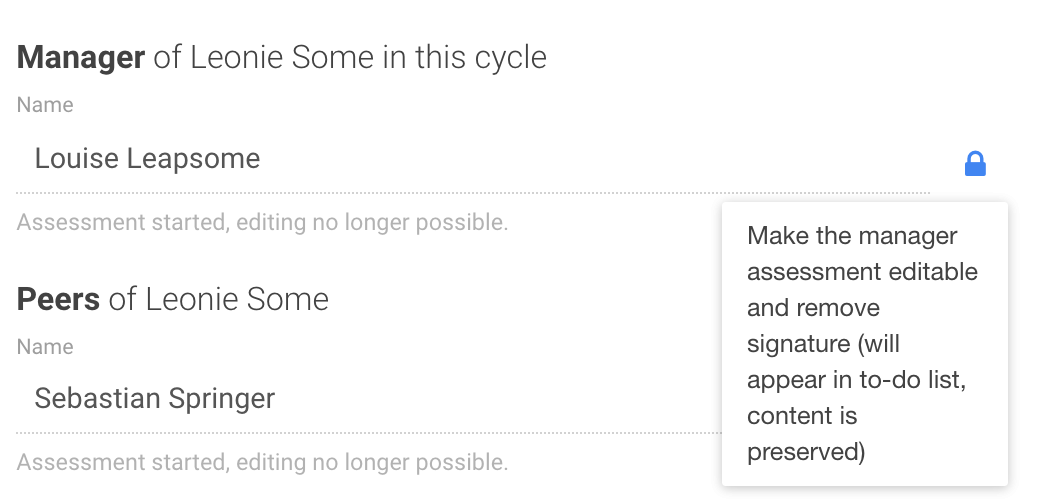 Adding participants
You can also add a new participant - just click the "Add participant" icon at the top of the list. A popup window will ask you for the name of the new participant.
Please note that while this participant and his / her manager will be added automatically, you will need to add the participant as a direct report in other people's reviews manually.