Leapsome allows you to create a culture of continuous, learning-oriented feedback. These features integrate neatly with other modules of the Leapsome platform but can also be used stand-alone (here's an article on how to disable other modules).
This article points you to all relevant resources if you want to create an instant feedback culture for the first time:
You decide who should see the feedback: Depending on the options enabled for your account, feedback is either completely private between you and the receiver, or can be shared with the manager of the person receiving feedback. Visibility settings cannot be changed retroactively, so if you give private feedback, it will remain private.
Cascading access to feedback. If you want to enable managers to also access the feedback their indirect reports receive, this can be enabled by Super Admin. ('Admin Settings' > 'Reviews' > check the '

Enable cascading access to review results' setting. This will apply to reviews, goals, surveys and instant feedback.) 

'Praise' can be private or public. If you choose to give public praise, it will appear in your company's praise feed and - if your company has enabled our Slack integration - will be pushed to a dedicated Slack channel where other colleagues can see it.
Feedback is not anonymous. We believe that a digital platform is a tool that should enable real-life conversations. To be able to follow up with your colleagues on feedback received, you need to know who they are.
Before you start using the feedback module, you should check out the Skills page. It contains a best-practice framework for structured feedback. In this space, you can add company values or other skills that you deem relevant for your employees (see detailed article). You can even add skills for specific teams / departments (learn more). We will use these dimensions to trigger more specific feedback during feedback sessions.
Now you're ready for your first feedback session. On the Instant Feedback tab, click the 'Actions' button and choose 'Give Feedback'. You can select any user to start a feedback session. You can provide a general comment and evaluate the employee on individual skills. By default, you will see an algorithmic selection of relevant skills to evaluate. You can choose any number of skills to assess.
Just as you can give feedback to any colleague, you can also run self-reflections (see article), the results of which are only visible to you.
Aggregated results of your feedback are displayed in a radar chart on your home dashboard under the Development tab. Via the link to the compensation framework, you can click to "show context & past feedback" to view a timeline comparing feedback and self-reflections over time (see article). You will also see your individual development goals.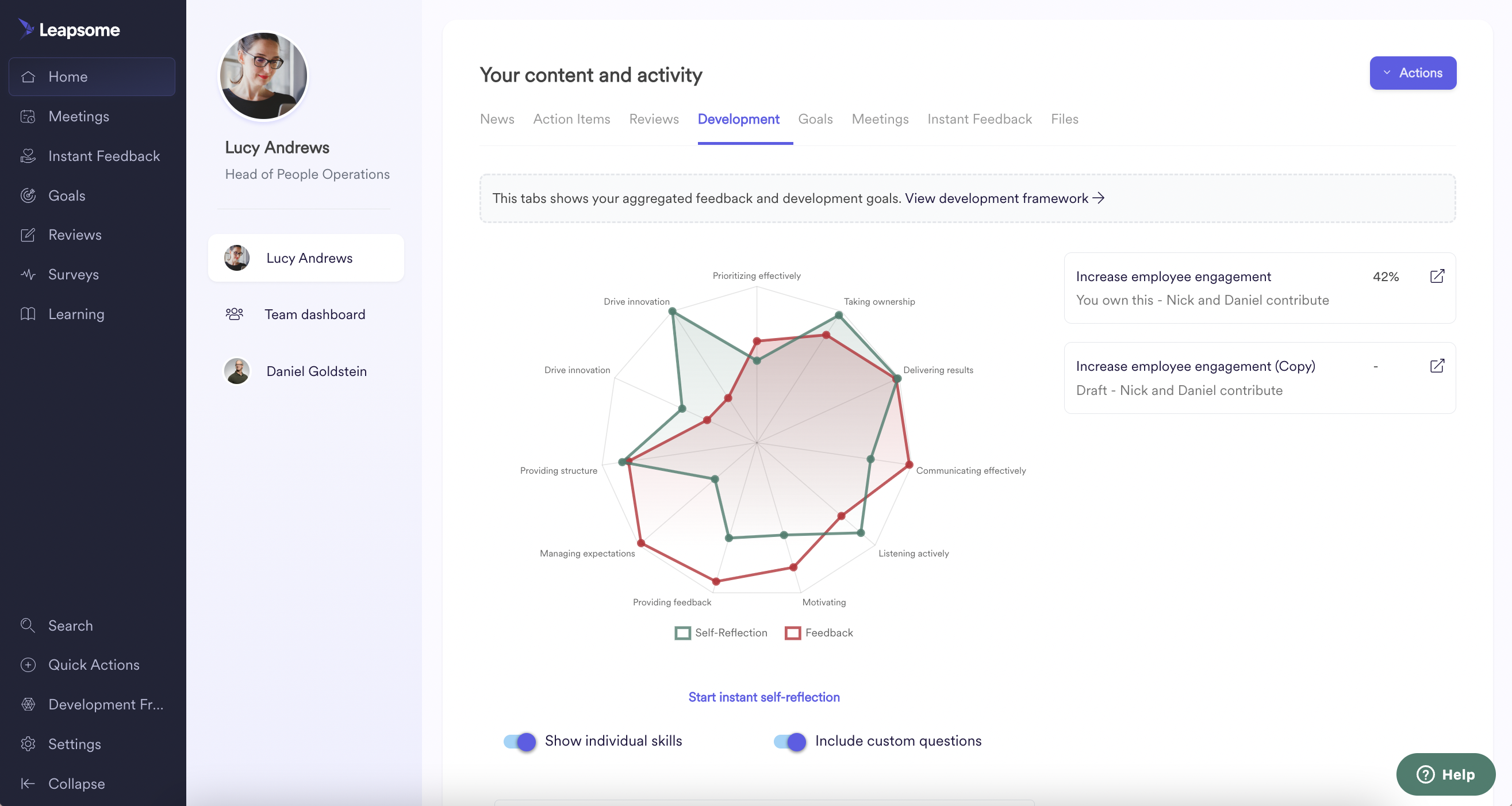 Users, managers, and admins can also see aggregated stats for individual teams (for managers) or the entire company on the 'Analytics' tab. These results are anonymized and only visible once a certain number of people have received feedback (learn more here).
Recommended reading: Our interview with Claudia Braun on building a successful feedback culture.
Recommend watching: Our User Tutorial on how to give and receive instant feedback.