If you want to use the goal module and are unsure of the specific settings, we defined blueprints based on your specific use case of what you want to achieve using goals. The two most common objectives we identified are:
OKRs for higher transparency and alignment
Performance and development goals for employee engagement and performance assessment
If you are looking for more general information of how to define and set up OKRs and goals, you can find guidelines here and in our blog.
OKRs for higher transparency and alignment
If your goal is to use OKRs for higher transparency and higher internal alignment on the purpose of work, we recommend using the following settings and processes:
Admin Settings
Set your admin settings like this (only available for super admins):
This way, the goals can be created and seen by every user. Nesting them in a goal tree makes it easier to understand which higher purpose a goal is contributing to.
Individual goals could still be made public, which also increases transparency. Mandatory goal tag filters make it easier for everyone later on to find goals for a specific team or cycle.
Set up Company level goals first:
At C-Level, you should agree on goals that apply to the whole company. Typically, those would be yearly goals. Examples for company goals may be:
Revenue Goals
Hiring Goals
Acquisition Goals
Branding Goals
Company level goals, business goals, will be visible for all employees by default: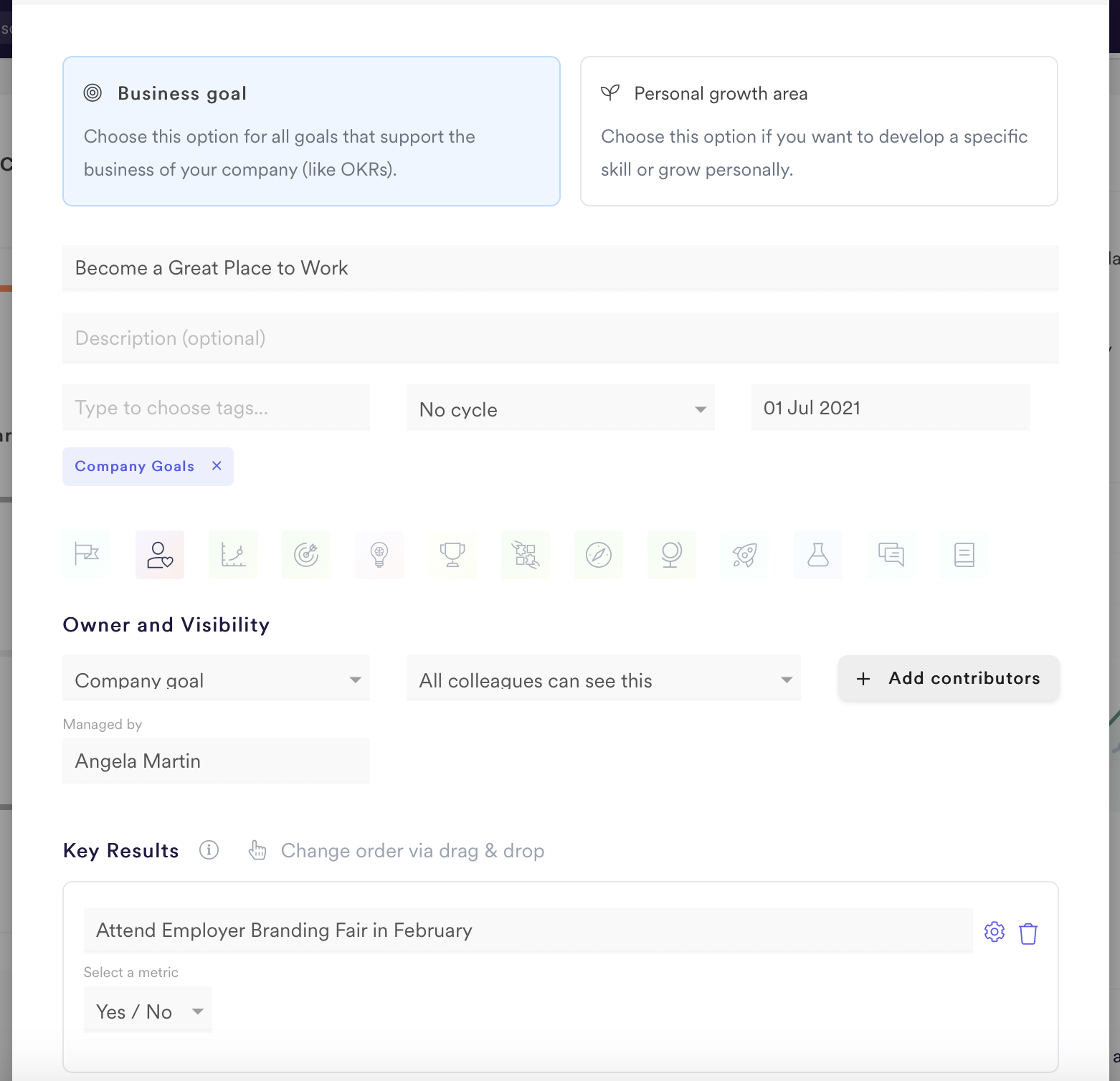 The Key Results underneath should be as quantifiable as possible. If a specific person or department is responsible for the Key Result, you can assign Key Result Ownership.
Beneath the company goals that are created at C-level, each team lists their team results. Best practice here is to view the two levels independently. That means progress in team goals does not directly influence progress in company goals.
To give an example, while the above-mentioned company goal "Become a great place to work" has two key results that contribute directly to its success and progress, a team goal underneath could be the following:
In this case, the HR department set themselves the goal to create onboarding material for new Sales team members, which also has its own key results that the HR team is responsible for. While it indirectly contributes to the company's goals of becoming a better place to work, the two OKRs need to be updated and worked on separately. Hence, OKRs owners at every level are accountable for their tasks. The Playbook 'How to Set Team Goals That Align with Your Company's Objectives' will provide you with further best practices on setting up team goals in your company.
If needed, individuals can add managed individual goals under the team goals, if there are tasks that they own themselves. Best practice is to also make those visible to everyone.
While we recommend setting company goals at a yearly level, it is best practice to set team and individual goals at a quarterly level.
To dive deeper into the best practices on how to implement OKRs in your company we suggest reading this Playbook.
Performance and development goals
Development and performance goals focus on the personal progress of the individual rather than team or company efforts. Development goals are objectives you set in the 'Personal growth area' to improve your personal skills and competencies. You can define development goals after an assessment talk and link the goal to a specific skill in Leapsome. Setting these goals involves assessing yourself and identifying the areas in which you can improve to maximize your potential and develop yourself.
Performance goals are objectives set for specific tasks in your current job position. These goals are usually related to the overall company goals or specific team goals.
Admin Settings
If you want to use goals only for development purposes, we recommend setting the admin settings for goals like this: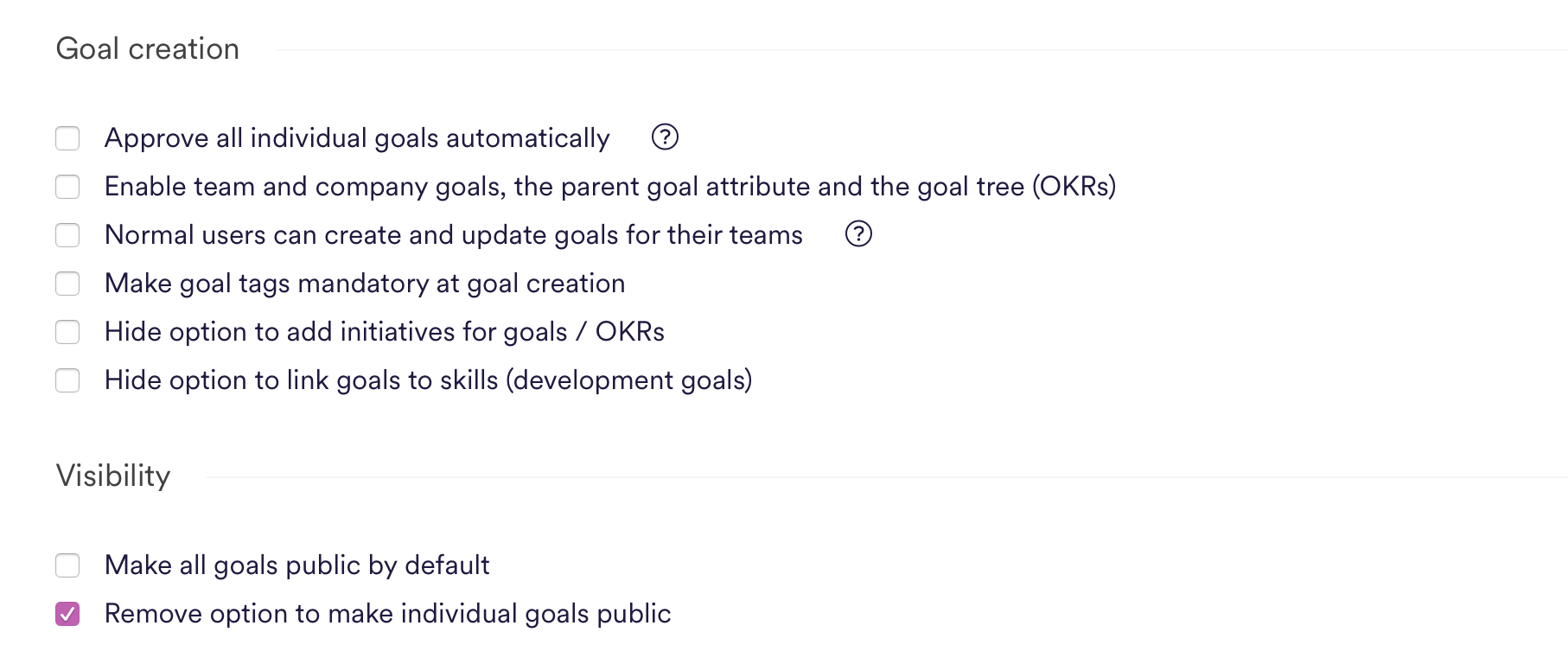 This way, goals will not be public by default. If the visibility setting is not set to 'only me', managers can see the private goals, and they can be used in review processes.
After each review cycle, we recommend for every employee to set 2-5 personal development goals that they work on before the next cycle.
These goals can either be shared with the respective manager or entirely private. However, we recommend sharing the agreed upon development goals with your manager.
Development/performance goals can be shared in review cycles if the ownership is set to 'me (approved by my manager)'. This way, performance, and personal development can be assessed next to company values or open questions.
Combining OKRs and development goals
Of course, you can also combine the two purposes. In this case, we recommend using the admin settings as shown for OKRs and using a tag for development goals. To make sure development goals remain private, the visibility settings should be set to 'Me, my manager and contributors'.
Goal Cycles
In order to structure and manage your goals in a lightweight and efficient way, we suggest to set up goal cycles.