Career growth and personal development rely on quality feedback and can be enhanced with comprehensive and actionable integrated learning tools. The learning module helps you store a tailored catalog of learning elements (content). Learning paths use these elements to create a structured and targeted learning experience for employees.
Admins can access and manage learning paths through the 'Path administration' section in the learning module.
Create a learning path:
Admins can create unlimited learning paths by navigating to the learning module, the 'Path administration' section, and clicking 'Actions' followed by 'Create a new learning path'.
Basics
This first page presents the basic information of a learning path:
Name: Name of the learning path.
Description: A description of the learning path helps employees understand the intention of the path and what they will learn by the end.
Tag: If you have many learning paths, add a tag to help group them into categories.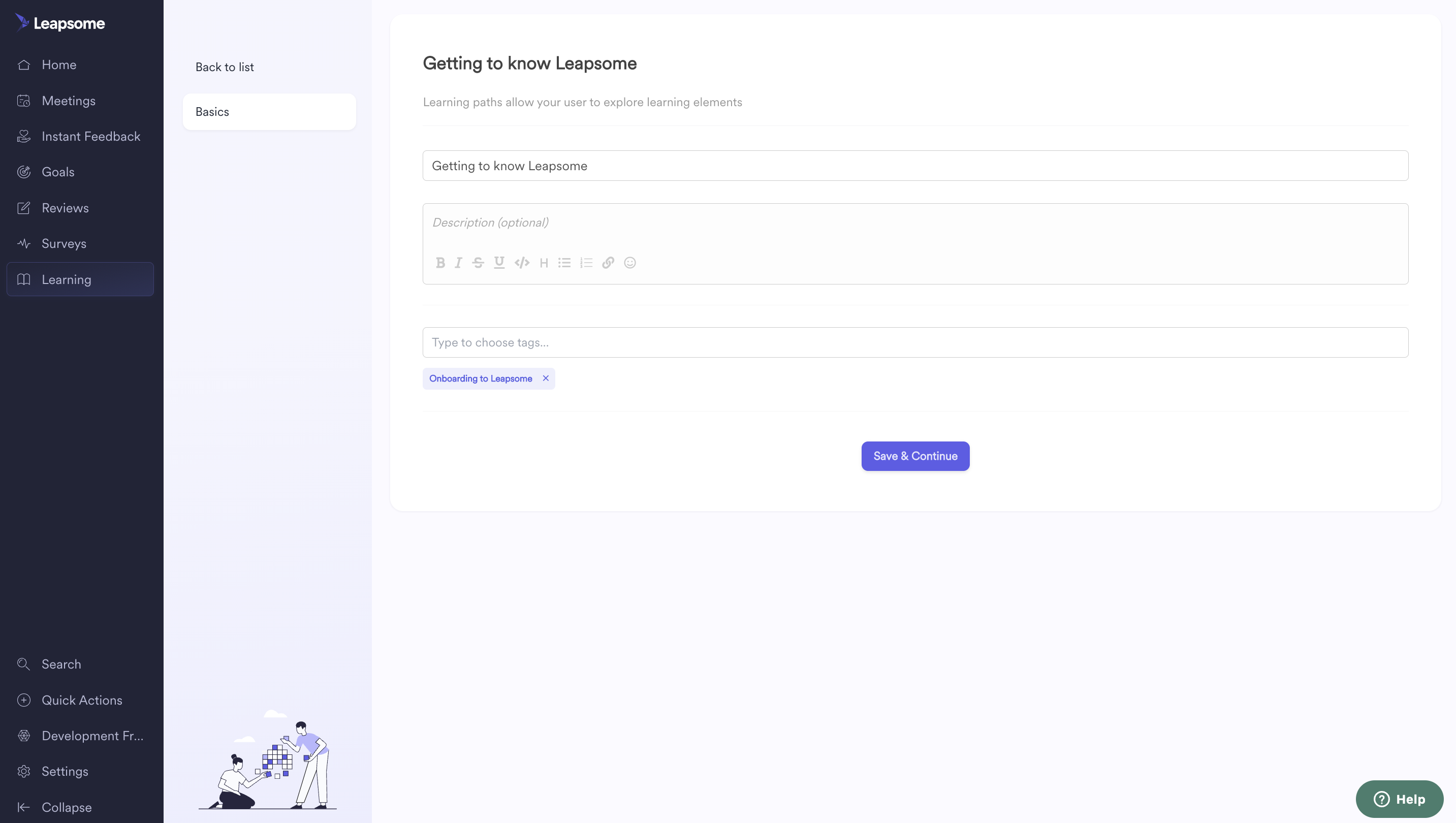 Steps
Selecting 'Save & Continue' will take you to the next page where you can set up the sequential steps of the learning path; these are the core of the learning path. Steps are built using content which can be added by searching through the list of existing learning elements or by uploading new content (please see the flow in the Learning Elements guide to curate your content library).
You can upload four types of steps:
Articles:

Articles are the most typical type of learning element. An article can be a link to an external or internal webpage, a PDF document, a presentation, an infographic, etc.
Videos:

Videos uploads are similar to articles but with different format optimizations. Videos natively support YouTube links (more supports can be added if needed) and any popular video file format (.mp4, .avi, etc.).
Tasks:

If those going through a learning path should complete a specific task, you would specify this with the task learning element. You define what the task is and any associated contacts the learner should reach out to if they need assistance.
Quizzes:

To ensure your employees have understood the learning material, our interactive quizzes help you test learners' newly acquired knowledge. These quizzes are made up of multiple-choice answers with one correct response (that you define).
Alternatively you can upload an existing course such as a LinkedIn Learning course by selecting 'Upload Existing Course (SCORM, AICC, xAPI, CMI5)'. Then, you will be able to upload your course as a ZIP file and give some additional information, that will be displayed along with the course in Leapsome. Details for setting up the Linkedin Learning Integration can be found in this article.
In the view of the path, you can then decide if each step is optional (meaning employees will be able to skip it) and define deadlines for each step. The number of days you define each step takes serves as a 'soft' deadline for the users, who will receive a reminder if a step is overdue. If a user misses a deadline they will be notified but will still be able to complete the step.
Don't forget to click 'Save & Continue' at the bottom of the page to save any changes.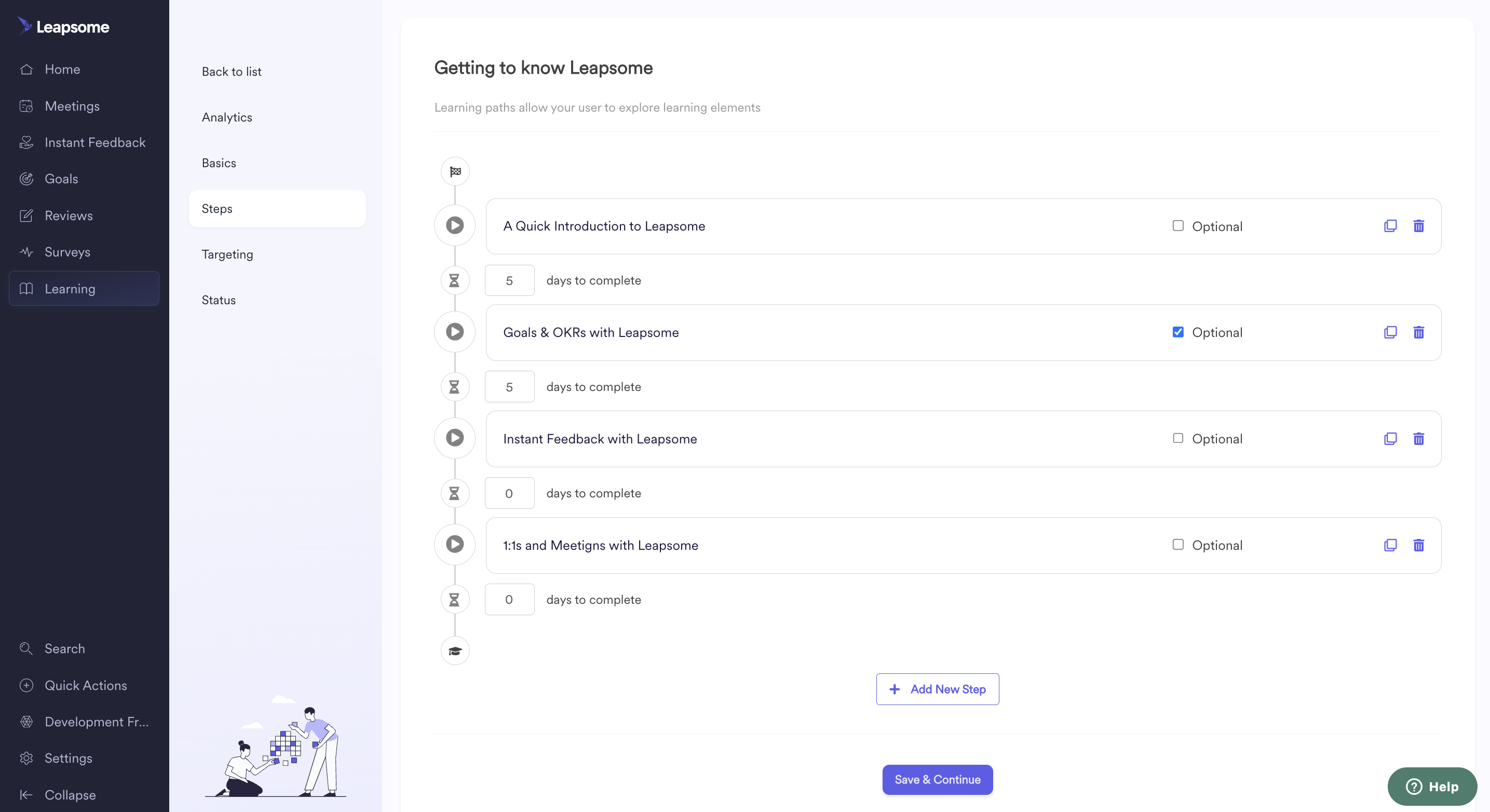 Targeting
Finally, you will define who should go through the path. A path can be targeted to 'All employees' or to any combination of teams and individuals.
Next you can decide when they will start. Paths can be automatically targeted to users based on their start date using the option 'Dynamically based on the hire date' either immediately or with a delay. This automation works by adding active participants to a learning path on the day specified in the learning path settings. Additionally, if a user activates their account after their Leapsome start date, (let's say they started on Monday but didn't activate their Leapsome account until Friday), they will still be enrolled to the path as long as they satisfy the targeting condition within one month.
Lastly, you can decide if all users can join proactively (i.e., enroll themselves). If you click 'Yes, everyone,' all employees will see the option to enroll. If you click 'No,' no one will see the option to self-enroll. And if you click 'Yes, based on competencies,' you allow users working on specific competencies to enroll (learn more about competency-based enrollment here).
Status
Finally, you can activate (or delete) the path on the status screen. Similar to learning elements, changes to a learning path won't impact those currently enrolled. Only newly enrolled users will see the changes. New users for the path will see the latest version, already enrolled users will see the version active when they were enrolled.