What is a Goal Cycle?
Goal cycles help you effectively manage the drafting, updating, and archival process for Goals and OKRs. In a goal cycle, you define the timeline along which you wish to hold each part of the goal setting and enacting process. This then auto-sends notifications, adds tags, and can auto-archive goals.
These cycles provide the flexibility to auto-assign goals and OKRs to pre-defined processes such as quarterly (Q1 2020) or yearly cycles while providing an additional layer of direction for teams wanting better guidance and streamlined processes.
Create a Goal Cycle
Only (super) admin can create Goal Cycles. To create one, go to 'Goals' > 'Goal Cycles' > click the purple 'Actions' button in the top-right corner > click 'Create'.
Once in the drafting area, the admin will need to take the following steps to set up the cycle:
Define the name of the cycle (i.e., Q4 2022)


Update the cycle description (if needed)


List the participants that will create goals in the cycle – admin can

either select

all users of the platform or specific users, teams, locations, or levels.


Define the timeline by marking the:
Drafting period: During this phase, users can create goals assigned to this current cycle. Goals are editable, and progress updates can still be made.
Active period: During this phase, goals cannot be assigned to this cycle (this can be overridden by a setting further on). Users can edit and update goals
End: This marks the end of the cycle. Admins can select a setting to automatically archive goals that were part of the cycle, thus preventing any further updates on the goals


Define further settings: if the goals should be auto-archived at the cycle end, if users should be blocked from creating new goals during the active period, and if specific tags should be automatically assigned
Participants will receive automatic notifications at the following periods and with the following conditions:
Drafting

phase:

Notify all participants that they can now create goals for this cycle

7 days before the end of the

Drafting

phase:

Notify all users without goals

Notify managers to approve managed goals

7 days before the end of the

Active

phase:

Notify the admins

Notify all participating users to update their goals
Note: Goals pending approval will show in the manager's goal dashboard (orange statement) and also under the individual goal created by the direct report.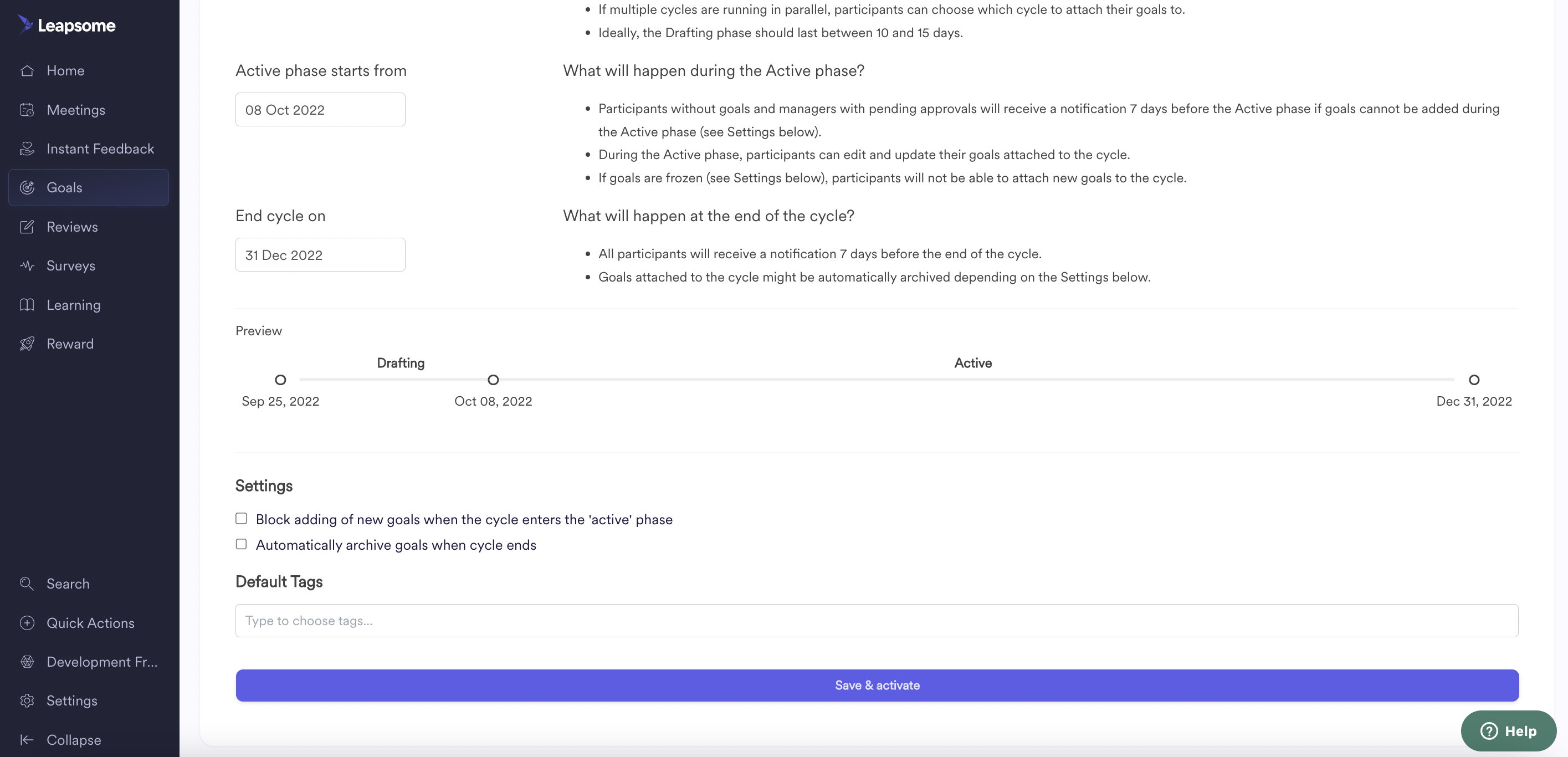 Note: Admins can always edit goals no matter the settings of the cycle.
Create a Goal within a Goal Cycle
If a goal cycle is active and a user participating in that cycle creates a goal, that goal gets automatically assigned to the cycle except in the following cases:
Private personal goals with no parents or with only another private personal goal as a parent

The user is part of simultaneous cycles, in which case the user can select which cycle this goal should be attached to

The drafting

phase of the cycle is over and the goals are frozen. New goals won't be attached to that cycle
Goal Cycle Dashboard
You can view any ongoing Goal Cycles by going to 'Goals' > 'Goal Cycles.' You can see which cycles are 'Currently running' or 'Past' in the list view. By clicking into an active cycle, you can see information like how many people have set goals, the average progress on the goals in that cycle, how many goals are in each stage of development, and which users haven't yet set up goals for that cycle.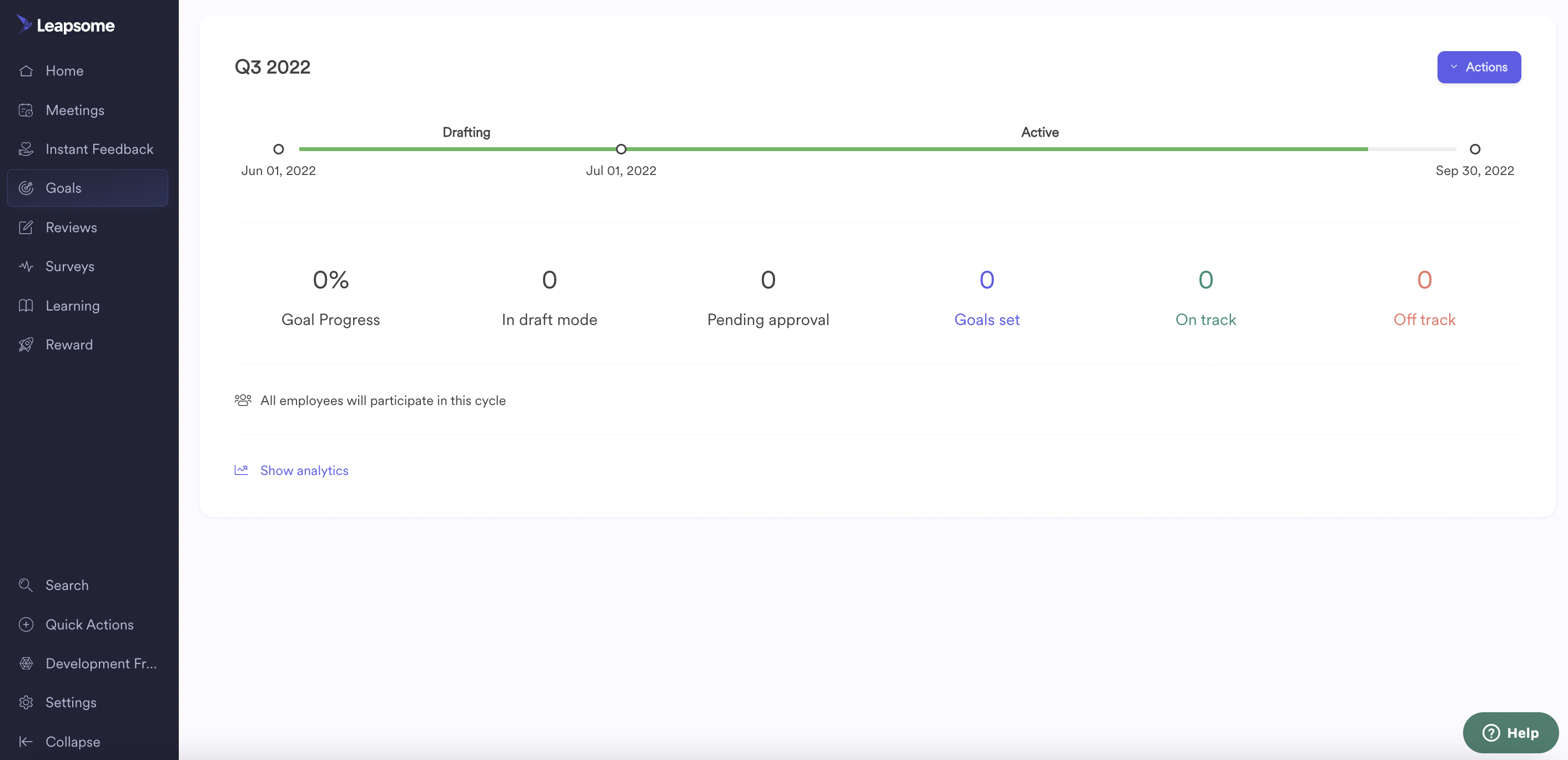 Goal Cycle Analytics
You can filter results to see goals from a specific cycle in the regular goals overview pages, allowing for cycle-based analysis. All visibility filters that apply to goals still apply to goal cycles.
FAQ
Can multiple Goal Cycles run at the same time?
Yes.
Can a user who is participating in a cycle create goals outside of a cycle while the cycle is in progress?
No. Except in a few cases detailed previously, all non-personal goals will automatically be attached to any active goal cycle. The rationale being, if a company decides to implement goal cycles, there is a clear intent to contain all goals in this lightweight process.
We plan to allow users to create goals that are not attached to a goal cycle while a cycle is in progress, controlled by an admin setting.