What are cycles?
Assessment cycles are the framework for your performance, 360°, leadership or project assessments. They contain questions, participants (employees that will be evaluated) and a timeline for your assessment process. Once defined, the system will automatically handle the assessment process.
You can interrupt the setup of your assessment cycle at any time and get back to it at a later stage - just make sure that you click the "Save and Continue" button after your last changes.
Important: Are you planning to set up similar cycles from time to time? Then you can also create a cycle template first. You may also look into our automation framework for probation period assessments.
If need recommendations or guidance on which type of assessment you should run check out our best practice blueprint for reviews.
1st step - Base settings
To set up a new cycle, go to the "Assessments" tab, select "Cycles" and click "Create". In the first step, the platform will ask you for a name, a description and the owners of the cycle.
Name
The name of your cycle will show up in all notifications related to your 360°, performance or leadership assessment. Pick a name that is easily identifiable, such as "Marketing Team Q4 / 2020".
Description
The description is optional and can contain the motivation of the assessment or general guidelines on how to write assessments in your process. All participants will have access to this description when writing their assessments.
Owners
These are people that will have full access to the cycle's statistics and settings. By default, the person creating the cycle will be the first owner - you can add as many owners as you like.
2nd step - Participants
Selecting participants
"Participants" are the employees that will be assessed in this cycle. You can add participants individually by typing their name or add full teams or the entire company by choosing from the corresponding dropdown.
Peers of each participant will be nominated after the kick-off of your cycle. The manager and direct reports of each participant will be pulled from your "Users & Teams" settings (if you're using one of our HRIS integrations, this data will be automatically synchronized). If the manager changes before kick-off of the cycle, it will be updated accordingly.
If no manager is defined, the platform assumes that the owner of the cycle will write the manager assessment.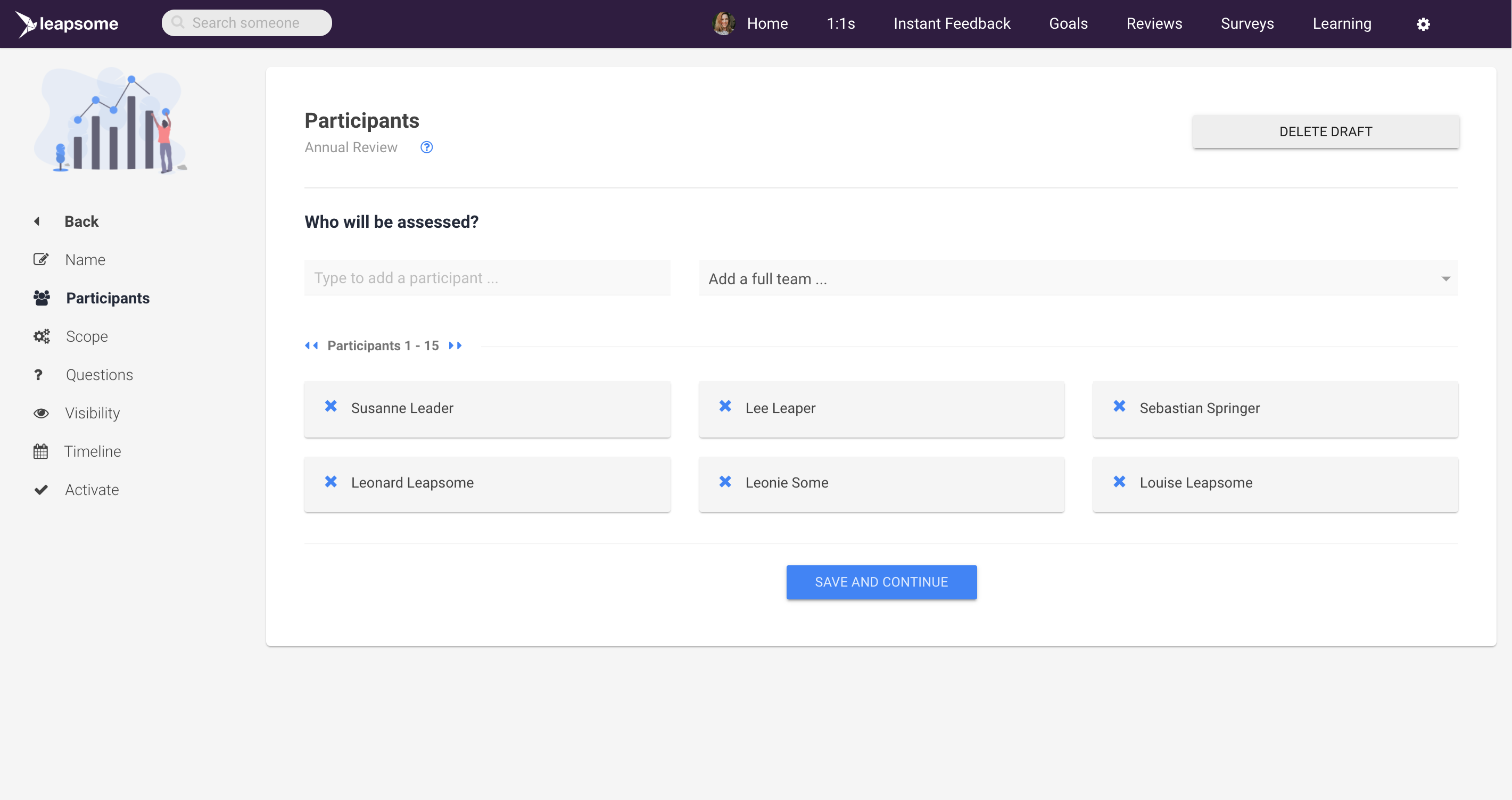 3rd step - Scope
Leapsome offers three best practice assessments that can be fully customised:
Simple Assessment: In this scenario, each employee will write a self-evaluation and will be assessed by his or her manager. After the assessment, the employee will discuss the results with the manager and sign the results digitally.


360° Assessment: This assessment adds the perspective of other direct reports of the reviewee and/or peers. While direct reports are automatically pulled from your employee directory, peers can be "nominated" by the reviewee or his/her manager. You can also define the minimum / maximum of peers required for a reviewee.


Leadership Assessment: This scenario enables upward feedback towards managers. Each participant (manager) will write a self-evaluation and can be assessed by direct reports or nominated peers.
As you can see below, the scope consists of a number of settings that can be fully customised. This should allow you to cover any use case and fully adjust the scope to the needs of your company.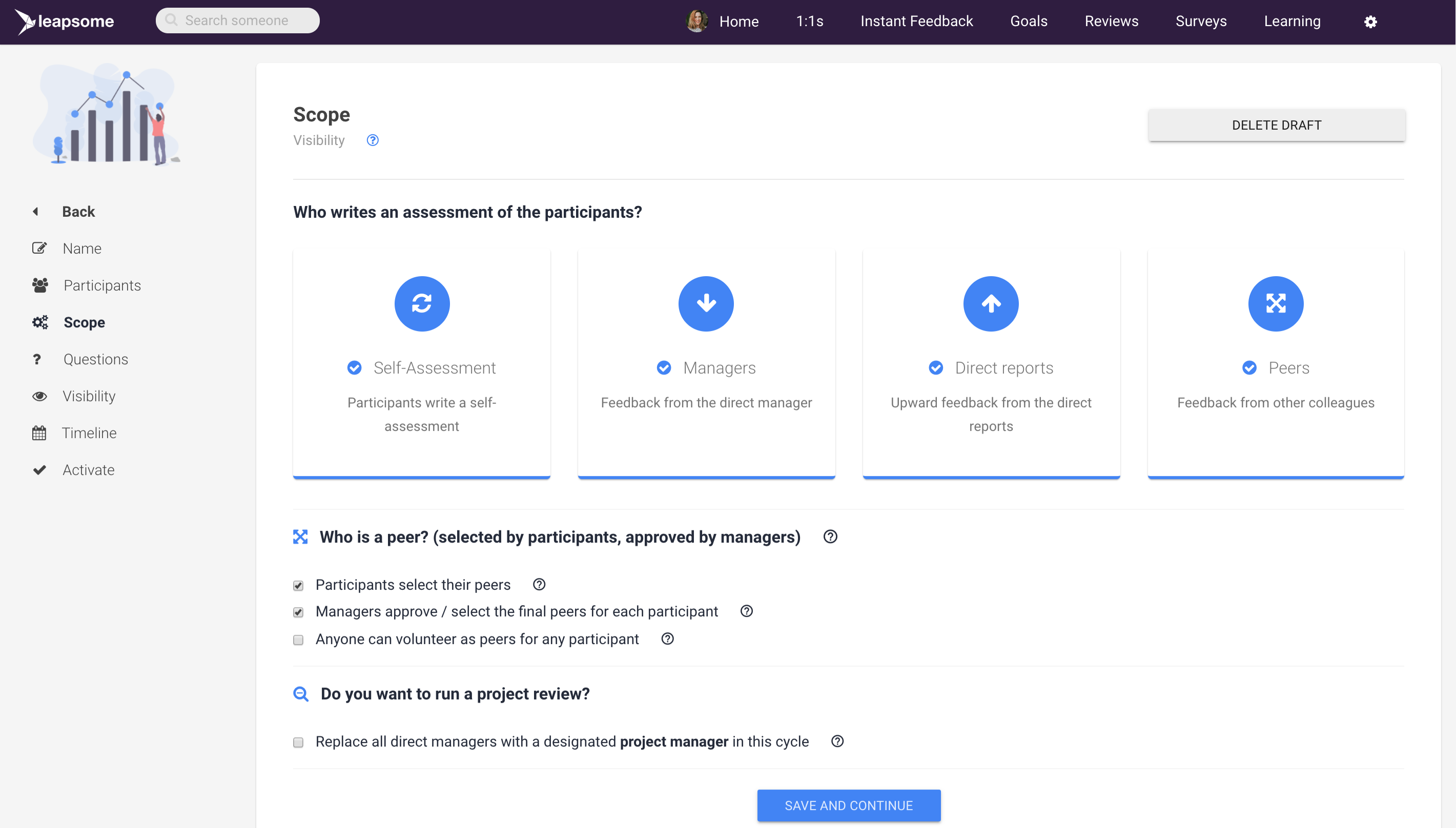 Project assessments
By default, line managers will assume the manager role for their team members in each cycle. If you want to replace them with project managers for a specific cycle, you should enable the option "Replace all direct managers with a designated project manager in this cycle" and select the person that will assume the project manager role.
4th step - Questions
Base questionnaire and role-specific questions
This step allows you to define the questions that will be asked during each assessment. Perspectives differ and might require different questions: That's why each question can be flexibly targeted at the participant (in a self-evaluation), his or her manager, peers or direct reports of the participant. To be able to compare perspectives effectively in the analytics module, we recommend to target different groups with the same question.
Using your skill framework
Before you set up your first assessment, set up your skills & values - that way, you can use consistent dimensions across feedback and assessments.
Skills can either be general (applicable to anyone in the company) or team-specific (applicable only to members of certain teams).
Leapsome will include the current set of defined skills when you activate the cycle. You can change your skill set going forward, previous cycles will not be affected.
Adding custom questions
You can obviously add custom questions to your assessment - they can be open-ended or require a scaled answer. Here are a few best-practice questions that you can use.
Adding private questions
By adding a custom question you have the option to enable private questions, that are only visible for admins and the manager (of the reviewee). They can be recognized by a 'lock' icon next to the questions. Answers to private questions can only be seen by admins and managers, not by anyone else.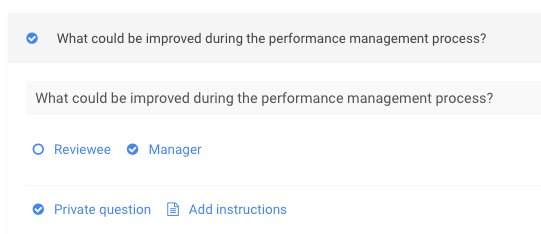 Please note: Total scores won't be displayed to Reviewees if private questions are included in the review questionnaire.
Including goals
If you're using Leapsome's goal module and assign goals to individual employees, you can include these goals in your assessment cycles. To do, simply enable the corresponding option. This will automatically create a question for every individual goal that is active and not completely private.
The question will be visible to manager and reviewee and will ask them to update the goal's progress and leave a comment on current progress.
Customizing the default scale
You can modify the scale for all scaled questions underneath. We recommend you define a default scale for all cycles in the admin settings.
5th step - Visibility
Changing the visibility and anonymity settings
As you can see in the screenshot below, you can define who should see which components and if contributors should remain anonymous or not. You can even choose different levels of anonymity (like hiding the name of the contributor from the participant but showing it to the owner of the cycle). Please be aware that each reviewee needs at least two peers if peer reviews are set to be anonymous.
6th step - Timeline
Defining a timeline
In the final step before kick-off, you can define a timeline for your cycle. The platform will use this to automatically send emails to all participants and contributors, reminding them about their involvement in the corresponding step of the process.
The actual steps will depend on your cycle setup (and the inclusion of self-evaluations, 360° assessments and manager assessments). It can be edited during the assessment process, so don't worry if you're not sure about the best intervals right away.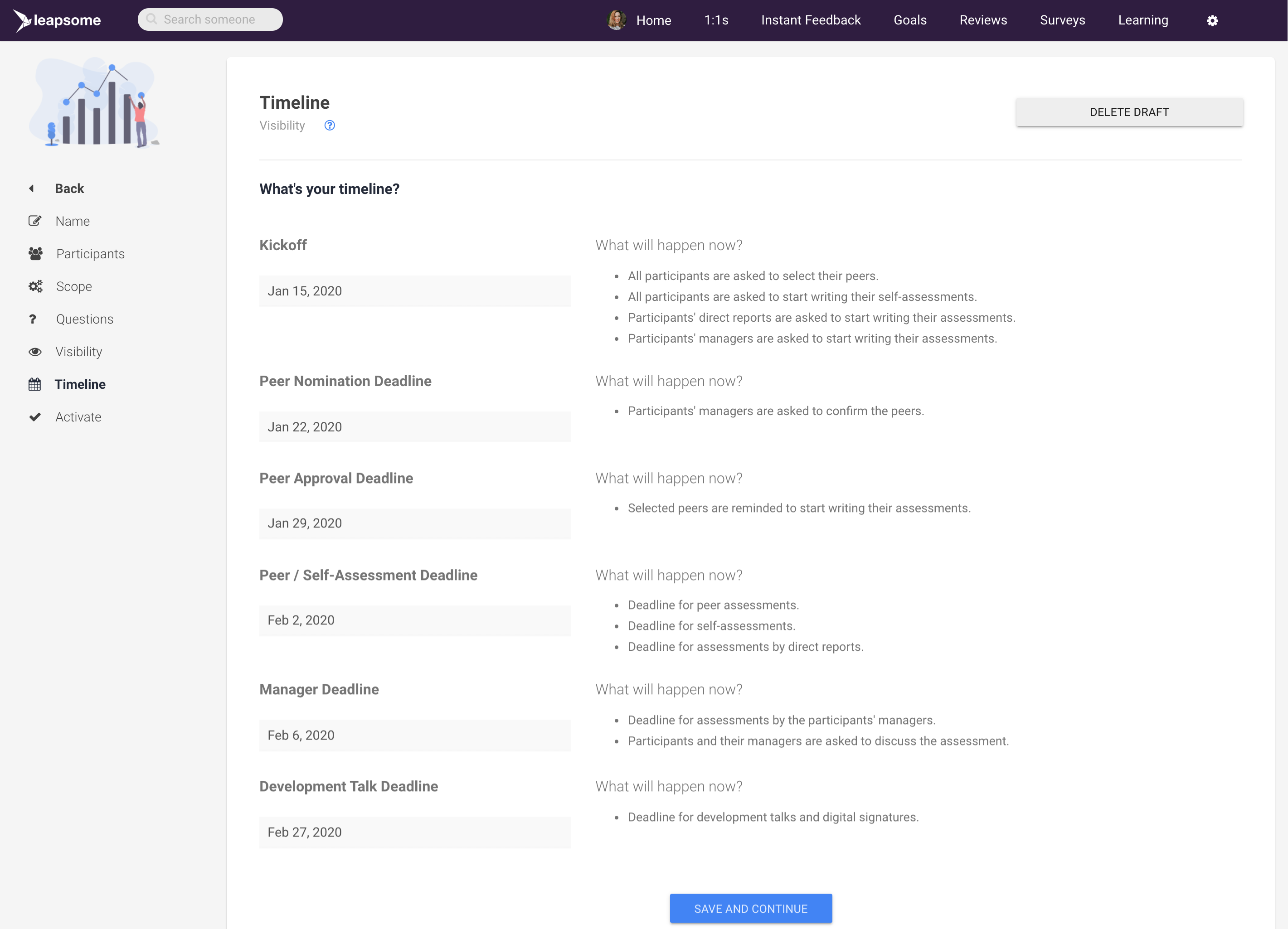 Receiving automated reminders
While the dates mark the official kick-off of each step, the platform always tries to manage the process as efficiently as possible. If a process step completes earlier and all prerequisites for the next step are met, it will automatically move to the next step.
6th step - Confirmation
If you're satisfied with your settings, you can confirm them.
In the next step, you will see the preliminar status overview of your cycle (where you can start assigning peers, change individual participants, etc.). Before the kickoff date, you can always go back and edit your settings.