Upgrading from our old Slack app?
Please follow these steps
Uninstall the old Leapsome app from your workspace
After that, install the new one by following the procedure below
User accounts will remain synchronised and there will only be minimal downtime.
How to set up our Slack integration
As an account admin, you can set up our Slack integration in three simple steps. Please note: You need to be an admin for Leapsome and for Slack to set up the integration.
First, navigate to the "Slack" tab in the admin settings.


Click the "Add to Slack" button.


You will be redirected to a Slack page where you have to grant Leapsome certain permissions and need to pick a channel that our bot can post to (for example #general). Leapsome needs these permissions to send notifications to your Slack users and respond to user commands in Slack. Your data is always secure and treated confidentially.


Once submitted, our app will automatically match the accounts of your Slack users with your Leapsome user accounts - this can take a few hours. This synchronisation happens on the basis of email addresses - please make sure you use company email addresses in both services.
What the integration does
Leapsome integrates neatly with Slack and leads to significantly higher engagement of your team on Leapsome. The integration works both ways. Once integrated with Slack, Leapsome will occasionally send notifications.
Private notifications will only be visible for the receiving user (they will come from a Slackbot). Users can choose whether they want to receive Slack (or email) notifications in their profile settings.


Notifications about public feedback will be posted in a public channel that you can select during the setup.
From within Slack, users can trigger core functionality with Slack shortcuts:
To

request feedback

, simply click on Shortcuts in the message field and 'Request feedback'. Another window will open and you can enter your request:

@Luise Could you please provide some feedback on our workshop?

". Our bot will take care of the request and send the request. You can also request feedback from multiple people at the same time.
To

give private feedback

, click on Shortcuts in the message field and 'Request feedback'. Type your feedback message,

e.g. "

Great work on the Sales pitch!

". Our bot will send this as private feedback to the corresponding user.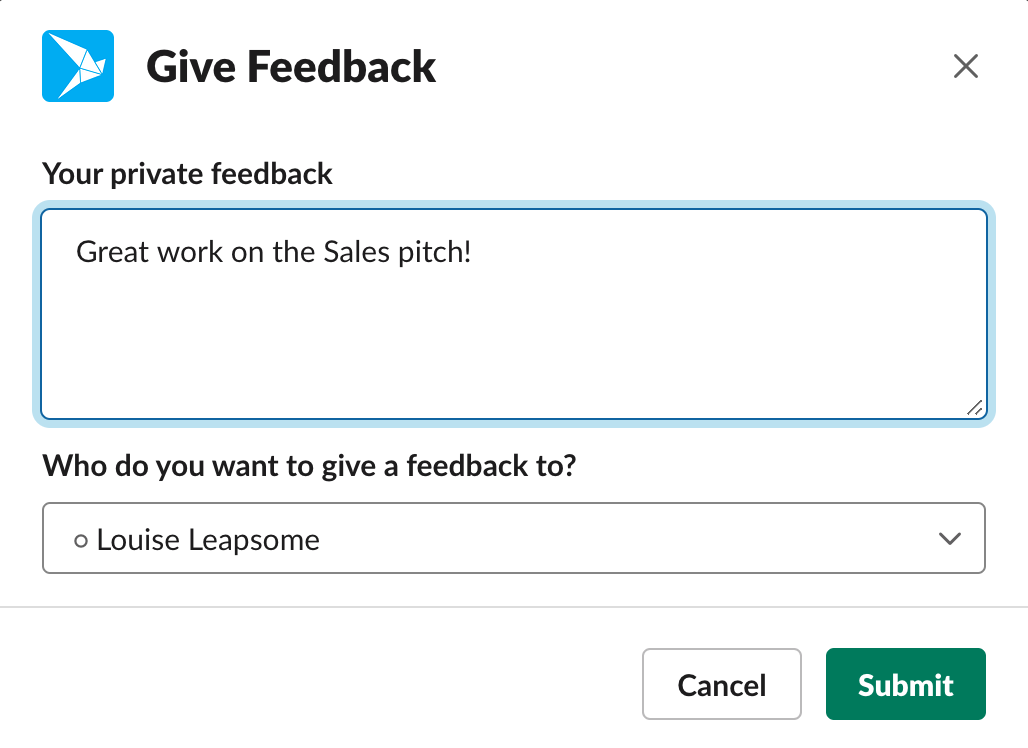 To

send a public praise, click on the Shortcuts button and add your note, e.g. "

Amazing presentation today. You're a hero!

". This will be treated as

public

feedback that your entire Leapsome team can see.
To create a talking point for your next meeting click on the small flash button scroll down to Leapsome and click on "Add talking point". Select the meeting and add your note, e.g. "

We need to talk about Q3 goals

". A new talking point will be created for the meeting you have selected.